Iraklia
Antidote to stress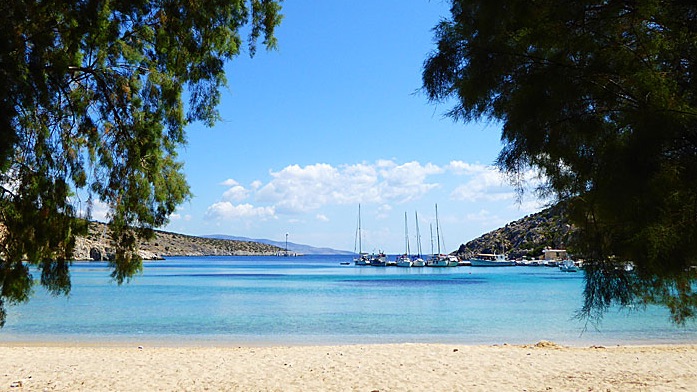 Southeast of Naxos, Irakliá largest of the Back Islands (pop. 150 the last time anyone counted), is only an hour's ferry hop from Náxos, but even in mid-August it remains quiet and inviting. Unusually for the Cyclades, it's a good time to visit and join in the Festival of the Panagía on 15 August.
The attractive port, Ag. Geórgios, is set in the hills, with a sandy beach and a little fishing fleet. Nearly everything (which isn't much) that happens on the island, happens here. From here it's a 20-minute walk to the large sandy beach at Livádi.
A minibus available links Ag. Geórgios to the old Chóra, Panagía, named after its main church, is about an hour's walk into the hills. It's pretty and sleepy, but primitive and unlikely to have rooms. There is, however, an excellent bakery – the baker picks wild sesame seeds for his bread on his journey from the port. From Panagía a path leads to sandy Alimniás Beach; the bus continues to another one, pebble Tourkopígado.
Another excursion (bring a flashlight) is the hour walk from Panagía to the large stalactite cave of Ag. Ioánnis, overlooking Vourkariá Bay. It's the biggest in the Cyclades, with two chambers over 73m (240ft) long; the chapel at the entrance sees a huge panegyri on 28 August.