Where Achilles wore Drag, and Theseus Fell
Tales from Skyros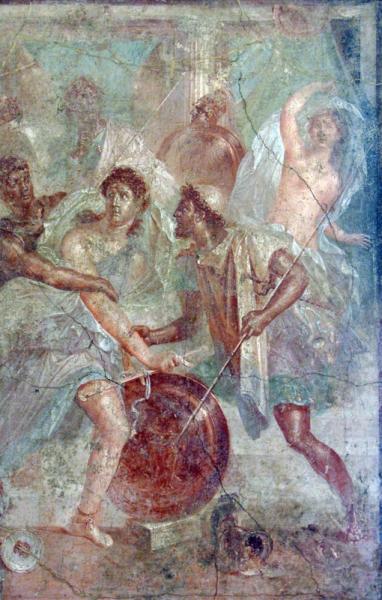 When it was prophesied that Achilles, son of the sea goddess Thetis and Peleus, would either win great glory at Troy and die young, or live peacefully at home to a ripe old age, his doting mother thought to hide him from the warlords by disguising him as a girl and sending him to live among the women at King Lykomedes' palace in Skyros.
Achilles didn't mind, and, adopting the name of Pyrrha, or 'Goldie', for the colour of his hair, took advantage of his stay among the women by fathering a son, Neoptolemis.
All would have been well had not another oracle declared that the Greeks would never win the Trojan War without Achilles, and Odysseus was sent to find him. Odysseus brought gifts for the women when he called on King Lykomedes – perfumes and jewellery – and a sword, which the young transvestite seized for his own, as Odysseus had anticipated.