Gyaros
'Devil's island' and future marine reserve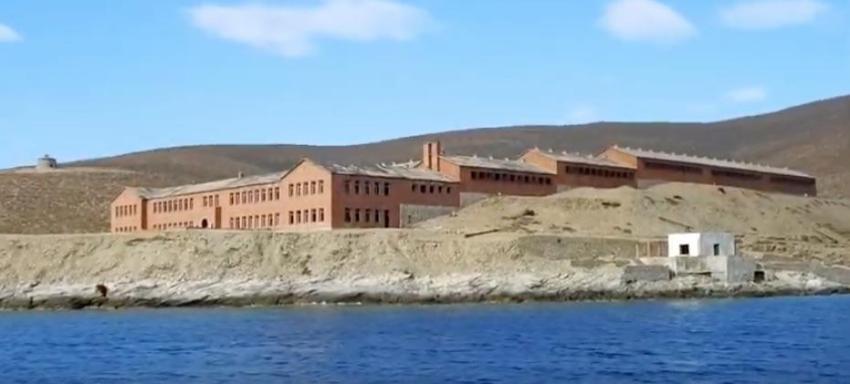 A little island near Syros Gyáros was first mentioned in Virgil's Aeneid with Mykonos as one of the two islands to which Apollo tied holy Delos to keep it from wandering about.
Twice in history it served a prison for political dissidents, first during the early Roman empire, although conditions were so harsh you had to be really awful to get sent here, and then again in the mid 20th century when a big red-brick prison, housing some 10,000 men, was built by the prisoners themselves— leftists who had fought with EAM in the Resistance in the Second World War, and during the Greek Civil War (1945–49) and then again in 1957-64 and during the Junta 1967-74. One inmate was the poet Yiánnis Rítsos.
As on the other prison island, Makronisos, conditions were inhumane. Gyáros was known as 'Devil's Island', the 'Dachau in the Mediterranean', where torture and forced labour ruled. Many died (many critically ill prisoners were rushed to Syros to die there so the prison governor didn't look bad).
After the prison closed, the buildings were used as target practice by the Greek navy; there is a lot of unexploded ordnance scattered about, which is one reason why it's off limits—although occasionally there are special tours from Syros, when this video was shot by Márkos Voutsínos.
Meanwhile the long isolated seas and coast around Gyáros host dozens of rare fish and bird species, as well as the endangered Mediterranean monk seal, Monachus monachus. In 2011,. the island along with the surrounding marine area of three nautical miles, was listed among the Natura 2000 Network sites. Perhaps someday it may open to divers. But now boats need permission from the coast guard on Syros to go anywhere near it.