cuts of meat
any way you slice it

This is not exact. Far from it! As in other nations, there are plenty of different ways of hacking up a beast, and plenty of regional differences—not too long ago, every town in Italy still had its municipal slaughterhouse. And we suspect there are well over a thousand dialect words for different cuts. But here are some of those you'll hear most often
(For cooking/done-ness of meat, see cottura)
tagli bovino—beef and veal cuts
collo (neck): reale, tenerone, brutto e buono, punto di petto / neck, chuck
spalla (shoulder): muscolo, fermo di spalla, sottopaletta, rotondino di spalla, arrosto della vena / cuts from the foreleg and shoulder: UK thick rib, shin, US brisket, shank. Shoulder can also be called copertina and fesone di spalla. Lower leg can be called garretto.
schiena (back): costate or carré / rib cuts. sottospalla/ (stewing meat)
filetto, or sottofiletto: cuts from the top centre: also called lombata or contrafiletto / UK sirloin, US rib and short loin. Middle rib section is called scaramella, or sometimes biancostato. fracosta is a rib steak (in the US a rib eye steak has the bone removed).
pancia (belly): divided into primo taglio, fiocco, biancostato / UK flank, US plate (ribs), flank. Italians use primo taglio (US bottom sirloin), the part of the belly closest to the hind leg, for roasts. From the same area comes cima or punta di vitello (breast of veal) that's often sliced with an envelope to stuff and bake.
The diaphragm, or 'hanger steak' is called pannicolo.
coscia (back leg and rump): scamone /UK rump, US sirloin and tenderloin. Scamone is called by many other names around Italy: cima, cimalino, codata, culatello, fetta, fracoscio, mela, pezzo or pezza, precione, scanello, sottofiletto.
infuori or noce / UK rump, US bottom sirloin
fesa, rotonda / UK topside, silverside, thick flank, US round. Fesa (or noce) is used for scaloppine; topside can be called girello. Bottom round or thick flank can be called sottofesa. In veal, you will also hear parts of the rump referred to as codone and magatello.
galinella (or pesce), ossibucchi / UK thick flank, leg, US shank. Source of the famous osso buco. Lower parts of fore and hind legs are garretto or geretto.
The most exhaustive source on the web for the bottomless subject of sawing up cows is Pino il Macellaio (in Italian).
tagli suino—pork cuts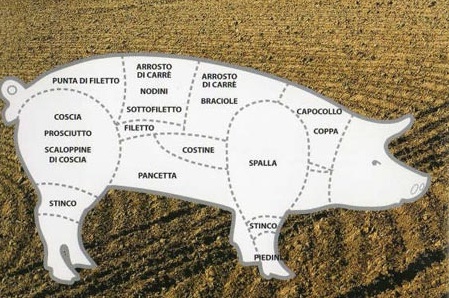 coppa, capocollo / UK blade, shoulder, US blade, butt
spalla / UK hand, US shoulder, arm or picnic ham
stinco / hock
For everything we call 'loin', Italians make fine distinctions. The very top part is arrosto di carré (tenderloin and sirloin), the middle braciole (chops), nodini and sottofiletto or lombo; below those are filetto (for roast) and costine (ribs). Choice bits of the filetto can be called lonza or nocette.
pancetta / UK belly, US spare rib and side bacon
For the hind leg, everything we call 'ham' is prosciutto (the lower part). Above that is coscia and scaloppine di coscia, used for roasts or steaks
piedini or zampino / trotters
rete / caul fat (often fegatelli con la rete) pork livers wrapped in caul fat
Pino il Macellaio has his say on swine butchery here.
tagli ovino—cuts of lamb
collo / neck
spalla / shoulder
schiena (costolette) / UK best end, US rib
lombata / loin
cosciotto / UK chump, US sirloin
petto / breast
coscia / leg. Usually not done whole, but divided up into pieces called girello, scamone, controgirello and zampetto
tagli di pollame—poultry
petto / breast
ala / wing
dorso / back
fuso / leg
sovracoscia / thigh. Thigh and leg together are the coscia.