patata
potato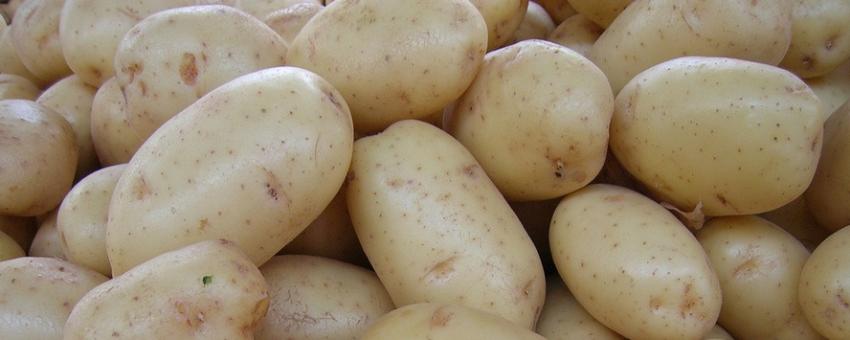 A country that eats pasta for primo doesn't have a lot of use for more starch in the secondo, but the Italians still manage to put away a lot of potatoes.
A lot of them go into gnocchi, into the potato pies and casseroles popular in the south, or into patatine, which can mean crisps (chips), chips (fries), or else it's a word used on menus to suggest the restaurant's potatoes are choice, dainty ones. patata al cartoccio: jacket baked potato; ripiena (stuffed) means it comes with something on it, bavaresi means cream and chives.
patate arrosto: roast potates.
patate dolci are sweet potatoes, which are sometimes called igname as well. Italians are rather fond of American sweet potato pie, and they're gradually catching on to other uses for them.
patate fritte: also used for fries (chips).
patate lesse: boiled, in slices.
patate 'mpacchiuse: sautéed with red onions, preferably from Tropea; a speciality of Calabria
patate novelle: new potatoes.
patate raganate: baked sliced potatoes with tomato, anchovy, onions, oregano and bread crumbs (Basilicata).
patate sabbiose ('sandy'): potato wedges briefly fried, then coated in breadcrumbs and spices and baked. Also called patate impanate.
Two varieties are in the Ark of Taste:
patata quarantina: an ancient variety grown in Liguria above 300m and known as a suitable accompaniment to stocafisso.
patata rossa di Cetica: a light red potato grown around Arezzo in Tuscany.
NB: 'patata' can also mean a chubby little girl or a cute grown up one—the equivalent of a 'tomato' in English. Patatina, on the other hand, is a rather rude word for a lady's bits.
The annual Sagra della patata takes place in early July at Sant'Agata Bolognese (Emilia-Romagna).