pane
bread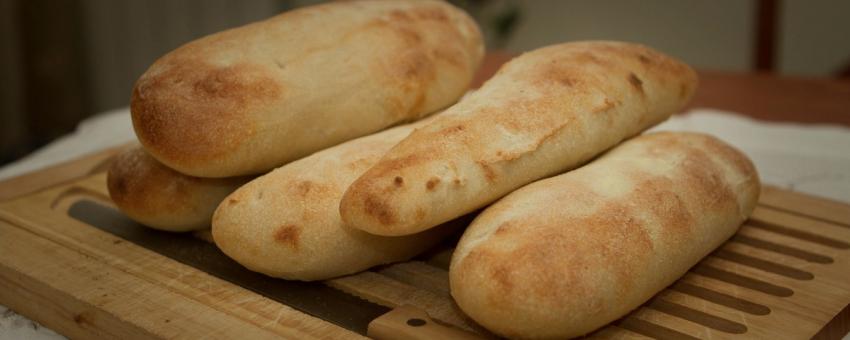 Every region of Italy has its own breads (one survey has counted some 350 types), and some are better at it than others. Umbria is notable for its cricket-bat Pane di Terni, slabs of chewy bread without salt, a state of affairs that go back to the Salt War of 1540, when Perugia rose up against a new papal tax on salt. Tuscans apparently joined in the protest, too, as their ordinary bread (pane comune) is just as tasteless.
Some other breads from around Italy include:
pane cafone: traditional country bread that doesn't require kneading and left to slow rise throughout the night and similar to sour dough made with farina 0. Made in Campania and the rest of southern Italy.
pane giallo: 'yellow' bread, made from a mix of wheat and corn flour. is common in the corn-growing regions of Italy, notably Lombardy and Emilia-Romagna.
pane grezzo: old fashioned Tuscan bread, made with a rye-based liquid yeast
pane guttiau: pane carasau brushed with olive oil and sprinkled with salt (Sardinia).
pane integrale: whole wheat bread
pane nero: the traditional 'black' bread of the Valle d'Aosta, made with rye and wheat flours, traditionally baked once a year in communal ovens and dried to preserve it for the rest of the year.
Pane di regnano: made with boiled potatoes and wheat flour, in the Lunigiana region of Tuscany.
pane di riso: made in Lombardy, an extra light bread made with wheat and rice flour.
pane di segala: rye bread, popular in the northern regions of the Valle d'Aosta, Piedmont, Trentino Alto Adige, and Valtellina (Lombardy).
pane di semolina: a speciality of Sicily, made from grano duro flour, flavoured with cumin, anise or sesame seeds.
pane raffermo: stale bread.
Trieste on the far eastern edge of Italy has its own words for bread: struzza or struza is a long loaf; S'ciopeta a small twisted loaf; roseta a Kaiser roll, bombeta, a round loaf.
Several kinds of bread are in the Ark of Taste (including the unusual pane di Matera):
pane di Cerchiara: traditional 3.5 kilo round loaves made in Cerchiara, Calabria, made from a mix of fine ground wheat with bran (crusca) or whole wheat flour and baked for two and half hours in wood buring ovens
pane di patate della Garfagnana: also known as garfagnino, a northern Tuscan potato bread invented when the wheat harvest failed. Softer and longer lasting than typical Tuscan bread, it's similar to Lunigiana's pane di regnano (see above), and excellent with cured meats.
pane nero di Castelvetrano: large, long lasting coffee-coloured loaves made in wood burning ovens in the eponymous town in Sicily, using wheat flour mixed with tumminia (also known as grano marzuolo).
pane tradizionale dell'Alta Murgia: using the local durum wheat with a sourdough starter and baked in the form of rocks in the traditional high-hooded ovens in Altamura, in Puglia.
pane tradizionale di Lentini: a golden bread made of semolina in Lentini, Sicily, baked in an oven using orange, olive or almond wood.