prosciutto
ham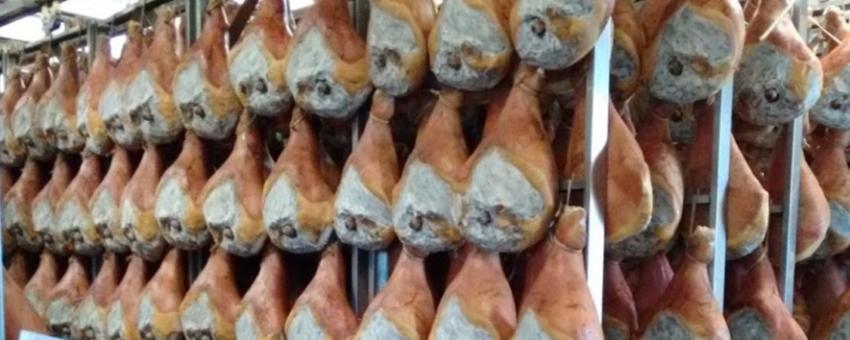 Technically, what we know as prosciutto is prosciutto crudo, or 'raw' ham. Cooked ham is prosciutto cotto. Smoked ham is usually called speck, but there are other kinds as well, such as Friuli's Prosciutto di Sauris.
Prosciutto crudo has been one of the stars of the Italian kitchen at least since Etruscan times. World-famous dry-cured hams such as Parma, San Daniele (from Friuli) and Norcia (Umbria), as well as lesser-known local hams such as Jambon de Bosses (Valle d'Aosta), Toscano, Carpegna (Marche), Modena (Emilia), Cinta Senese (Tuscany) and Veneto Berico-Euganeo—all have DOP status.
Several rather rare kinds are in the Ark of Taste: Bazzone 'protruding chin' ham of the Garfagnana (Tuscany) made from semi-wild pigs fed on spelt, fruit, chestnuts and acorns; Casentino (Tuscany) made from free range grey pigs; Fortore, exceptionally large hams (Campania); Val Vigezzo (Piedmont), made from pigs that go into the mountains with the cattle and seasoned with herbs and spices and smoked twice, the second time over juniper wood. Desulo (Sardinia) in the Gennargentu has a special microclimate, where the prosciutto is cured for at least a year, and Pietraroja (Campania), an historic ham, unusual in that it is served in pieces rather than slices.
For all that, many gastronomes say the best ham of all is a speciality of Emilia called culatello. A rival from the Abruzzo is prosciutello, made from only the best part of the ham.
You'll occasionally find some imports: prosciutto York from England, tedesco from Germany, di Praga, from the Czechs.
'Ham', of course, can come from any animal (see violino di capra). Sardinia is known for its sheep ham: prosciutto di pecora, Umbria and Tuscany for prosciutto di cinghiale (boar).