jambon de Bosses
prosciutto from Aosta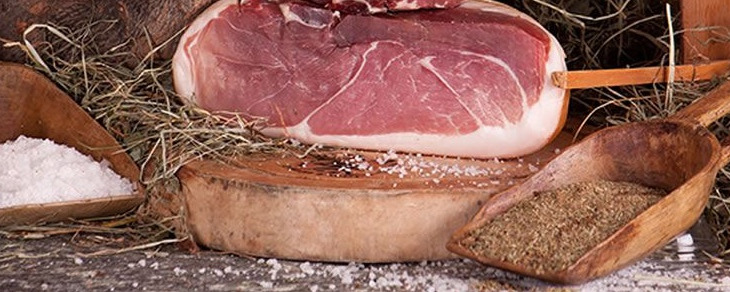 Made just below the Great St Bernard Pass in bilingual Saint-Rhèmy-en-Bosses, jambon de Bosses DOP is a traditional prosciutto crudo, flavoured with salt, pepper, garlic, sage, rosemary, thyme, bay leaves, and juniper berries and dried for 16 months in airy barns. Wine red in colour, the locals recommend eating it thinly sliced with butter, pane nero, honey, and walnuts.
Another ham made in vicinity of the St Bernard Pass is jambon alla brace di Saint-Oyen (or Jambon à la braise de Saint-Oyen), spread with herbs and salt and slow roasted on a spit over a fire.
In July, Saint-Rhèmy holds a lively Sagra di jambon.