polenta
corn meal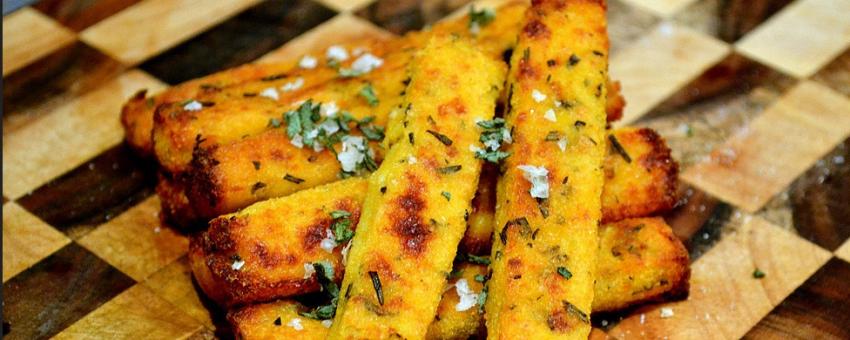 Although polenta these days nearly always means a mush or pudding of corn (granturco or mais), it dates back to Roman times, long before corn or maize was introduced from the New World: the Roman army marched on barley or spelt (farro) puls or pulmentum. After the 16th century, the corn version was such a success, especially among the poor, that by the 19th century, many, especially in the benighted Papal States, suffered from pellagra, caused by a chronic lack of niacin (vitamin B3) in the diet.
Heavy and very filling, polenta appears far more often on northern tables (southern Italians call northerners 'polentoni'). Traditional polenta cooked at a low simmer takes almost an hour to make and requires constant stirring, but many cooks opt for the instant 5-minute guide, although naturally it isn't as good.
Polenta is wonderfully versatile: when cooked, it can be served as is, or put in a mould and sliced, fried or baked. It is often served with stews such as spezzatina, chicken or rabbit alla cacciatora or sausages; in alpine regions recipes often include lavish amounts of butter and cheese. It can be used to make crostini di polenta (thin fried slices) as a base for toppings.
Don't confuse polenta with corn flour.
polenta di castange: chestnut flour polenta (Tuscany)
polenta di patate: boiled spuds and onions, milk flour and butter made into a fat polenta-like cake (Trentino)
polenta alla rascard: served in the Valle d'Aosta, sliced and baked between layers of beef and sausage ragù and Fontina cheese.
polenta taragna : a speciality of the Valtellina in Lombardy, a mix of corn and buckwheat, served with butter and Valtellina casera cheese, or ideally with scimudin. Another dish from the Valtellina is polenta in fiur (cooked in milk). In nearby Bergamo, you may find a different version in polenta e osei.
polenta vûncia (or polenta uncia) with garlic, butter and Grana Padana (Lake Como). Como also sees polenta reach a festive epiphany in an elaborate dish called toc. In Mandello they use furmagèll a mountain cheese.
In Friuli-Venezia Giulia polenta is hard to avoid, with frico and in rustic dishes such as ocikana, mosnik (or mucnik, mesta, meste or zuf) polenta cooked in the same water used to boil beans or chestnuts); gramperesa (potato and polenta mixed and topped with stew); matuffi (layered with sausage, sage and Montasio, and baked); olac (soft polenta gruel in butter and milk); or zgance (or Žgance) toasted polenta, dipped in milk. They've even made a song about it, called La Bella Polenta.
Polenta is also popular in the Abruzzo (roughly the southern limit of the 'polenta zone') where they like to cook it together with sausage and raisins, and maybe tomato or peperoncino, to make a pastuccia or polenta all'abruzzese. They also mix it with red beans: polenta e fagioli.