stoccafisso
stockfish, or wind-dried cod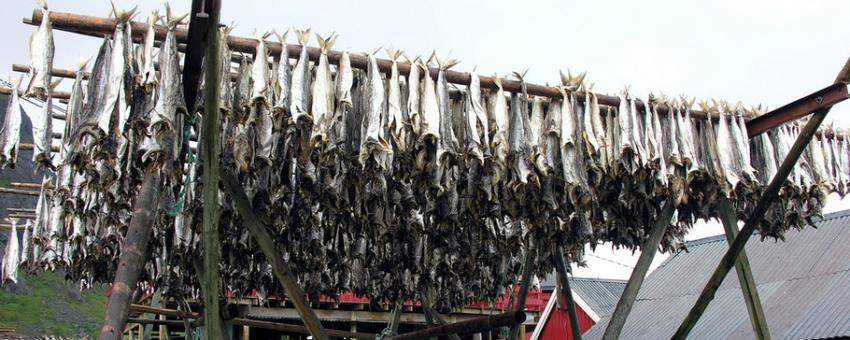 Not to be confused with baccalá (salt cod), though people in the Veneto often do just that; baccalá alla vicentina, really stockfish, is a popular Christmas dish in Vicenza. It gets its very un-Italian name from the Dutch, who first brought it here from Norway, although it was a Venetian nobleman, Pietro Querini, stranded with his crew for months on Norway's Lofoten island in 1432, who first watched the annual rite of cod caught in the Barents Sea from January to April, left to dry in the wind until they become 'as dry as wood.'
He brought 50 barrels back to Venice, beginning a taste for it along the Adriatic. Even today Lofoten exports thousands of tons to Italy every year, and attracts Italian tourists along the 'stockfish trail'.
Stoccafisso all'Anconetana is the seafood speciality of Ancona in the Marche, cooked with potatoes, tomatoes, verdicchio wine and lots of olive oil. They're so proud of it they have established an academy to glorify the dish.
A popular Ligurian version is called brandacuyùn, or brandacajun; another is stoccofisso accomodata (or in umido) or stocchefisce accomodou, prepared with anchovies, pine nuts, mushrooms, olives, vegetables and potatoes in a white wine and tomato sauce (see here to learn how). A village near Genoa, Badalucco holds a festival in September, that features a march in honour of stockfish, and renditions of the Norwegian national anthem.
Some villages in Calabria are famous for stoccafisso, and celebrate it with festivals: Mammola (Sagra del Stocco, early August) and Cittanova (Festa Nazionale del Stoccafisso, also in August).