soppressata
pressed salami

So called because it is pressed under a weight to squeeze out excess moisture. The best soppressata comes from Calabria, where it is mostly artisanal, using the best cuts of pork and ham from acorn-fed pigs up in the Sila. The Basilicata is also known for it.
sopressata from Tuscany and Liguria tends to use the cheaper cuts, including the head.
Several kinds are in the Ark of Taste:
soppressata della Sila: the famous one from Calabria. If not eaten after its six month curing, it can be preserved in a number of ways—in oil, in ashes, or oats.
Soppressata cilentana e del Vallo di Diano: this one from southern Campania is a smoked version.
soppressata di Decollatura: another one made in Calabria from lean, acorn-fed pigs, and flavoured with a sauce of pizzo calabro peppers.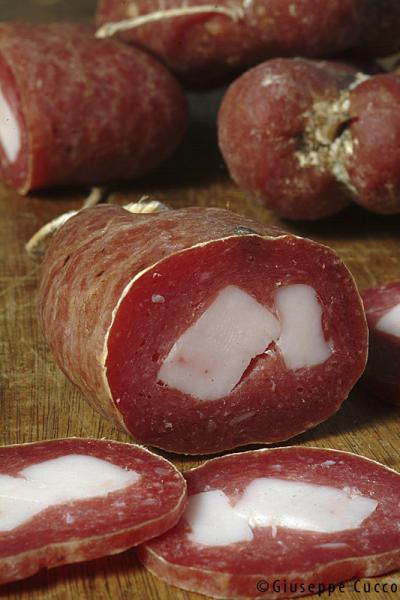 soppressata di Gioi: Campania's smoked version, with some lard in the centre to keep the meat moist.
soppressata del Molise: after it's cured, it's preserved in glass jars filled with fat
soperzata di Rivello: a very traditional, very red sopressata made the old fashioned way in medieval Basilicata
soppressata di San Gregorio Magno: a prime quality meat, made with bacon usually smoked. Also from Campania.
sopressa Vicentina: Made from fine cuts of pork (shoulder, thigh etc) and the first to earn a DOP designation. Big ones are called maneghe and little ones are called cornète Celebrated since 1960 in August at the Sagra della Sopressa di Valli del Pasubio.