San Geremia e Santa Lucia
Last resting place of St Lucy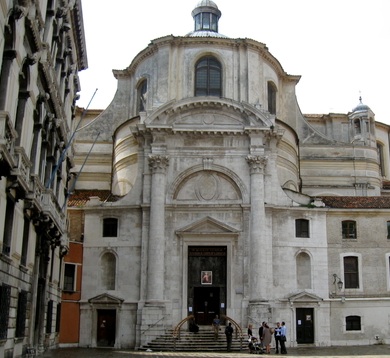 Although rather plain on the outside, 18th-century San Geremia e Lucia with its hoary 11th-century campanile (one of the oldest still standing in Venice) improves within. The original church dedicated to St Jeremiah was founded in the mid 11th century to house an arm of St Bartolomeo, and rebuilt on several occasions, lastly by Carlo Corbellini, a priest and architect from Brescia, after the church was damaged during the Austrian bombardment of 1749.
Unlike most churches, the focal point here is not the high altar but the Cappella Santa Lucia, where St Lucy's mummy was moved in 1863, after her church was demolished to make way for the train station. It was only one of Lucy's many posthumous moves—from Syracuse, Sicily, to the Abruzzo, to Metz, to Constantinople then to Venice, as the recent paintings around her altar attest. The patron saint of eyesight and blindness, today her face and empty eye sockets are covered with a silver mask. There is less about San Geremia (Geminianus), who used to share a feast day with Lucy on 16 September, but was one of those removed in the Vatican's general housecleaning of dubious saints in 1969.
The church's art highlights are four paintings by the prolific Palma Giovane.
Campo San Geremia was once a favourite venue for bullfights; on one memorable occasion, the mighty patrician Girolamo Savorgnan joined the toreadors and neatly decapitated two sharp-horned bulls with single strokes of his sword to the admiring cheers of the Spanish ambassador, who lived nearby on the Lista di Spagna.
Also nearby: Palazzo Labia.
Hours 9.30-1pm, 2.30-5; Tue 2.30-5 only.
Adm Free
Campo San Geremia
vaporetto: Stazione Santa Lucia