Lorenzo da Ponte
Priest, womanizer, professor—and Mozart's librettist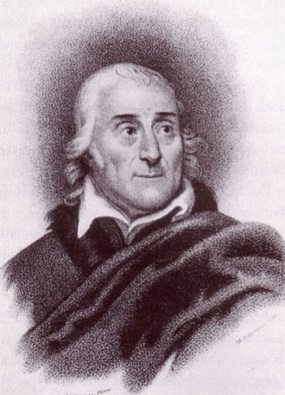 Born the eldest of three sons in the Jewish ghetto of Ceneda, Lorenzo Da Ponte (1749 –1838) was originally named Emanuele Conegliano, until his father remarried a Catholic and converted the whole family. Emanuele, then 14, took the name Lorenzo after the bishop who baptised him. All three brothers then went to study in a seminary. Lorenzo learned classical languages and Hebrew, and became a professor of Italian literature, while enjoying numerous love affairs.
Nevertheless at age 24 he became a priest, and was assigned to San Luca in Venice, where he became friends with Casanova and Gozzi and had two children with his married mistress Anzolletta Bellaudi. He escaped before the Council of Ten banished him from Venice for 15 years, citing his living in a brothel and 'public concubinage.'
Da Ponte eventually ended up in Vienna, met the opera composer Antonio Salieri and was appointed Poet to the Court Theater of the Hapsburg Emperor Joseph II. He collaborated with Salieri and others (he would eventually write librettos for 28 operas by 11 different composers).
But the most famous one was Mozart, who (they say) was introduced to Da Ponte by his landlady. De Ponte was behind his most popular Italian operas: The Marriage of Figaro (1786), Don Giovanni (1787), and Così fan tutte (1790). There is evidence that Da Ponte met up with his old friend Casanova in Vienna during the writing of Don Giovanni, and that the famous lover offered a tip or two and was present for the premiere.
Joseph II died in 1790, and Mozart in 1791, and Da Ponte fell out of favour. But not with the ladies. After fleeing to Trieste with a soprano (before her husband chased her down and reclaimed her), he went to London on Casanova's advice, taking with him Nancy Grahl, an Englishwoman who had also been born Jewish but had converted to the Anglican church. They would go on to have four children and be known as Mr and Mrs Da Ponte, although it's doubtful they ever married.
Da Ponte worked on librettos, translations and ran a book shop during the family's 11 years in London, before escaping to the United States just ahead of the police coming to arrest him for debts.
Da Ponte ending up running a grocery store in Sunbury, Pennsylvania, before a chance meeting with Clement Clarke Moore (author of 'Twas the Night Before Christmas and son of the president of Columbia College) led him to New York City, where he ran a boarding house for students and a bookstore, gave lessons in Italian language and literature, and regaled everyone with Mozart stories.
In 1825, at age 76, he was appointed first Italian professor at Columbia, although because students had to pay extra to learn Italian the position only lasted a couple of years. At age 84, he founded an opera theatre, and introduced Rossini to the United States, and although that too failed it is considered the forerunner of the Metropolitan Opera in New York.
When Da Ponte died a few years later, he had a great Catholic send off and was buried in a cemetery on East Eleventh Street, although before he was given a headstone, all the bodies were dug up and moved to the Old Cavalry Cemetery in Queens, where his remains were finally tracked down by an Italian-American society, and given a headstone in 1986.