San Giobbe
The church of Job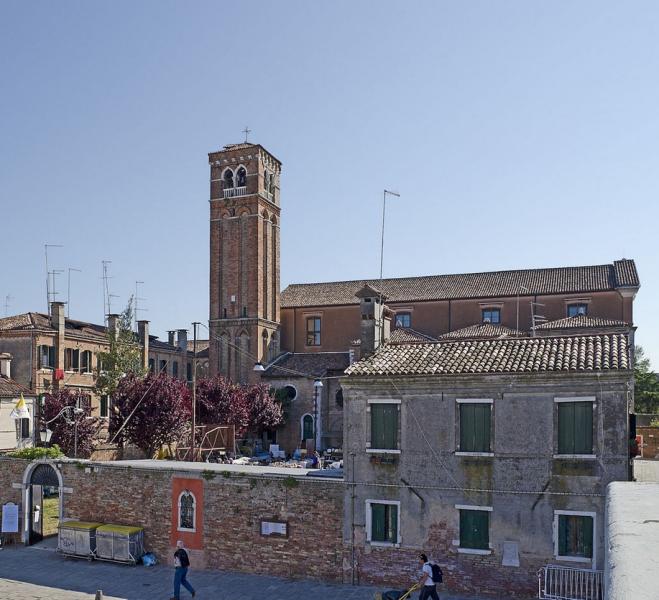 Job, the man who bore all, was canonized in the Eastern Church and in Venice for his hoped-for efficacy against the plague. This church, originally an oratory and hospice, was founded in 1378 but rebuilt with funds from Doge Cristoforo 'Othello' Moro for the Franciscan Observants in 1450. Work was started by Antonio Gambello and finished by Pietro Lombardo, completing one of the first Renaissance buildings in Venice.
The exterior is plain, except for Pietro Lombardo's fine doorway, with statues in the lunette of SS. Job and Francis, and above, Saints Louis of Toulouse, Anthony and Bernardino of Siena (the latter, declared the patron saint of advertising, preached here and drew such large crowds that when the church was expanded, he was made co-dedicatee).
The church was famous for three exceptional altarpieces, all of which were nicked by Napoleon in 1810, and when they were returned to Venice in 1815 they went into the Accademia and stayed there, all three in the same room. Pietro Lombardo's sculpted marble frame of Giovanni Bellini's great Pala di San Giobbe (the saddest absentee, as it depicts the Virgin seated in the sanctuary of this very church) now holds the Vision of Job.
The grandiose Monument of the Ambassador Paulmy d'Arge (d. 1651), though cut in half in 1935, retains a pair of the ugliest, baldest cauliflower-eared lions in all Italy. In contrast with these shabby cats, the sanctuary is a sublime grey and white Renaissance vision by Pietro Lombardo, decorated with elegant carvings and the tomb slab of Cristoforo Moro (d. 1471) and his Dogaressa. The first chapel on the left was designed by Lombardo's Tuscan contemporaries for homesick silk workers from Lucca, with Della Robbia rondels.
A door on the right leads into the sacristy, passing by way of a Nativity (c. 1530), the only painting left in Venice by Gian Girolamo Savoldo, an artist who spent most of his career in the city, pioneering tenebroso night scenes that anticipate the Bassani and Caravaggio. The sacristy preserves a wooden ceiling of the 1500s, a portrait of Cristoforo Moro, and a so-so triptych of the Annunciation, St Michael and St Anthony by Antonio Vivarini and Giovanni d'Alemagna.