San Giovanni Crisostomo
A pocket-sized Renaissance gem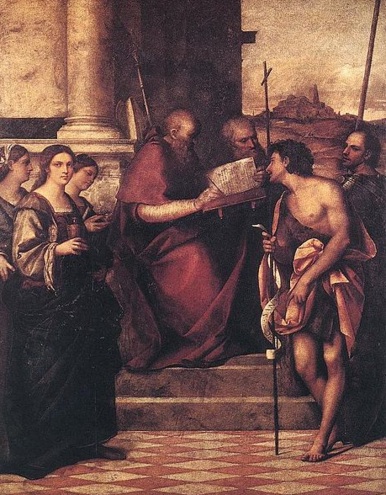 This handsome little coral-coloured Renaissance church (sometimes spelled Grisostomo) is the last work of Mauro Codussi (finished in 1504), following the lines of his famous San Michele. In form it is a square with a compact Greek cross inscribed within, perhaps as a nod to its namesake, the 'golden-mouthed' bishop of Constantinople; even the plaster has a red-gold tint, thanks to the addition of brick dust. On one of Venice's main thoroughfares, it also one of the city's busiest churches, a favourite of the faithful.
Harmoniously proportioned and well articulated inside, with its vaulting and domes, San Giovanni contains its equal in art: on the right, the very last work of another great Venetian, Giovanni Bellini's SS Christopher, Jerome and Louis of Toulouse (1513, painted at the age of 82) and, on the high altar, Sebastiano del Piombo's Seven Saints (1508–11), one of his greatest works too; some art historians have detected the helping brush of his teacher, the elusive Giorgione, especially in the figures of St John the Baptist and St Liberale.
The marble altar on the left, by Tullio Lombardo (1502), shows The Coronation of the Virgin, where you can see how the sculptor concentrated his attention on the figure of Mary to the detriment of the bland Apostles.
Ruskin in the Stones of Venice, writes:
One of the most important in Venice. It is early Renaissance, containing some good sculpture, but chiefly notable as containing a noble Sebastian del Piombo, and a John Bellini, which a few years hence, unless it be "restored," will be esteemed one of the most precious pictures in Italy, and among the most perfect in the world. John Bellini is the only artist who appears to me to have united, in equal and magnificent measures, justness of drawing, nobleness of colouring, and perfect manliness of treatment, with the purest religious feeling. He did, as far as it is possible to do it, instinctively and unaffectedly, what the Caracci only pretended to do. Titian colours better, but has not his piety. Leonardo draws better, but has not his colour. Angelico is more heavenly, but has not his manliness, far less his powers or art.
Hours Mon-Sat 10am-6.30pm, Sunday 11.30-6.30
Adm Free
Campo San Giovanni Crisostomo
vaporetto: Rialto