Giorgione
Founder of the Venetian High Renaissance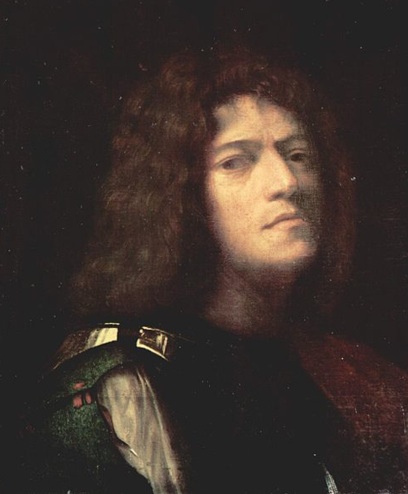 No painter is as transfixing as Giorgione. The stillness produces the unrest. Giorgione's people...are mortals who have lost their souls to the fairies and are punished by living forever.Mary McCarthy, Venice Observed
Born in Castelfranco Veneto, Giorgione (Giorgio Barbarelli, c. 1478–1510), got his nickname 'Great George' not only for his height but for the enormous influence he had on Venetian painting in the High Renaissance. Although he barely lived past 30 and only several surviving paintings are for certain by his hand, his poetic evocation of atmosphere and mood, his expressive use of glowing, melting colour rather than line, and his haunting ambiguity were echoed by his followers, notably the slightly younger Titian and Sebastiano del Piombo.
Both Giorgione and Titian were pupils of Giovanni Bellini, and afterwards Giorgione stayed on in Venice, He was a handsome and romantic charmer, a musician and famous lover. In 1500 he met Leonardo da Vinci when the latter visited Venice, and who may well have inspired him to revolutionize Venetian art in the same way Leonardo changed the history of Tuscan art. Both began using sfumato (the use of different shades of colour to highlight light and perspective, and create a soft-focus effect) around this time.
Outside of his traditional Sacra Conversazione style altarpiece of 1504 preserved in the church of his native Castelfranco, most of Giorgione's early recorded work has been lost: portraits, and exterior frescoes on palaces, including the famous work on the Fondaco dei Tedeschi, which he painted with Titian.
Giorgione invented easel painting: works that had no religious, mythological or historical references, but just existed on their own for the delight of the viewer: Giorgione's two canvases in the Accademia, the mysterious, atmospheric, uncanny Tempest and Col Tempo are all that survive in Venice, perhaps only by chance: when Isabella d'Este, the wealthy Marchioness of Mantua, heard that Giorgione had died, she at once wrote to Venice, hoping to buy his 'night scene, molto bella e singolare). Venice said no.
Giorgione never signed his work, and died leaving a number of paintings incomplete, bequeathing future art historians some of art's longest running puzzles. Another easel painting generally attributed to his hand, The Three Philosophers (now in Vienna) is believed to have been completed by Sebastiano del Piombo; Titian finished at least some of Giorgione's paintings, including the landscape behind the exquisite Sleeping Venus (now in Dresden); controversy continues over the attribution of several other works, notably the Louvre's Pastoral Concert.