San Pietro Martire
Murano's arty church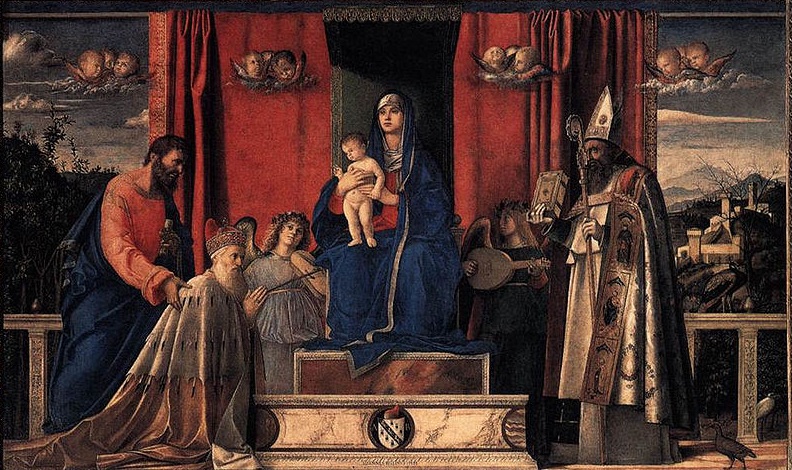 The Fondamenta dei Vetrai runs the length of the canal as far as Gothic church of San Pietro Martire, one of Murano's few surviving churches—before Napoleon there were 18. This one was built in 1348 as part of a Dominican monastery and originally dedicated to St John the Evangelist; it then burned to the ground and was rebuilt in 1511, and rededicated to St Peter Martyr, a Dominican saint from Verona who is usually portrayed walking around with an axe embedded in his tonsure.
Like many in Venice, the church was suppressed and stripped of all its treasures in 1808, although a few years later it reopened, redecorated with art from the churches of Murano that were closed, notably Santa Maria degli Angeli.
The best is by Giovanni Bellini: the recently restored Madonna with St Mark, St Augustine and Doge Barbarigo (1488), a beautiful, serene painting commission by the Doge for his apartments, complete with angel musicians playing some celestial soul music that perhaps only the Bellinis of this world can hear.
There are other angel musicians in the church, accompanying the Virgin and Child Enthroned with Saints by the Leonardo-influenced Giovanni Agostino da Lodi. There's a Baptism generally attributed to Tintoretto, and a painting by his son Domenico in the apse.
Veronese's St Jerome and St Agatha in Prison Visited by St Peter were originally in Santa Maria degli Angeli; the former is over the sacristy door, now used as a small museum, including a collection of 17th-century wood panels carved by Pietro Morando with a rather unexpected crowd of Roman and Greek emperors, gods, philosophers and villains.
But most winsome are the local touches – the Murano chandeliers, the 15th-century frescoes of Dominican saints in the nave, the glass-doll Madonna and Child, covered with the candles and flowers of the devout, and on the first altar to the right, another Madonna, very much like a primitive idol.
Hours Open 9–12 and 3–6
Adm Free
Fondamenta dei Vetrai
vaporetto: Faro