San Stae
Or Sant' Eustachio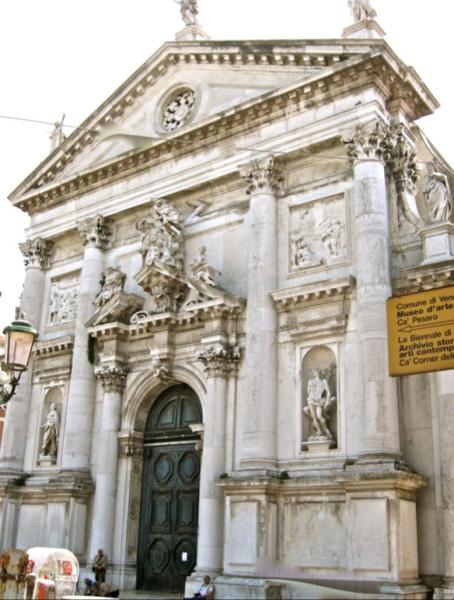 Non-Venetians call him Sant' Eustachio, or St Eustace, the patron saint of hunters, and his church, one of the landmarks along the Grand Canal, was built in the 17th century, though the exuberant façade was added later in 1709, by Domenico Rossi, and decorated with saints who perform daredevil circus acts on the high trapeze of a bracket over the door. The two reliefs show rarely depicted scenes from Eustace's life: The Lion Lowers its Head before St Eustace and The Emperor Hadrian has Eustace and his Relatives Thrown in a Red-hot Bronze Ox.
The airy (and statue-packed) interior, inspired by Palladio's Redentore, is bright white and grey after a recent restoration. It is still used for mass in winter, although in summer it's given over to exhibitions. All year round, however, you can see the Hallowe'en style slab in the floor marking the tomb of Doge Alvise Mocenigo II (d. 1709) who paid for the façade, but chose the Latin epitaph, 'Name and ashes buried together with vanity'.
In 1722, twelve artists were commissioned to contribute a painting on canvas of one of the apostles as part of a decorative scheme for the nave. Two of the finest hang in the lower left row: the Martyrdom of St James the Great by Piazzetta; St Peter Freed from Prison by Sebastiano Ricci, while, opposite is the best: young Giambattista Tiepolo's Martyrdom of St Bartholomew.
On the left side of the nave, if there's no exhibition on, you'll see the Monument to Antonio Foscarini, who was re-buried here with an inscription from the Republic noting that he was mistakenly executed for treason in 1621. The funeral scene at the end of Don't Look Now (1973) was shot here.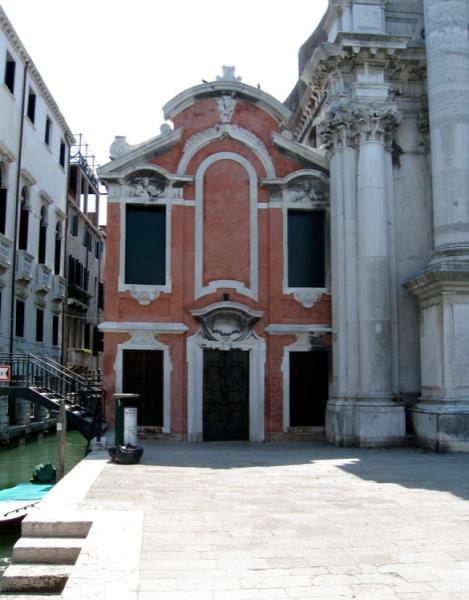 Butting up to San Stae's east flank is one of the most endearing (and smallest) buildings on the Grand Canal, the Scuola dei Battiloro e Tiraoro (the Guild headquarters of the goldsmiths), built in 1711 and also used now for exhibitions.
San Stae is a Chorus church.
Hours Monday–Saturday 2–5
Adm €3
Campo San Stae
Vaporetto: San Stae