Redentore
Palladio's most harmonious church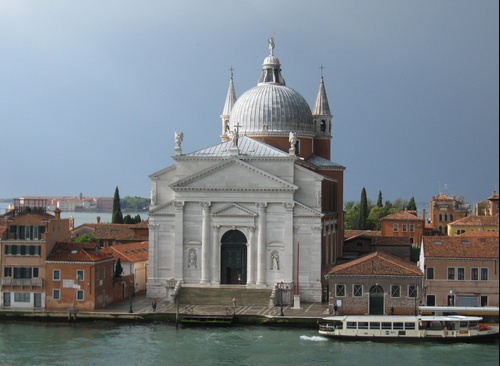 The Giudecca's chief attraction, the church of the Redentore, was built in thanksgiving after the end of the savage plague of 1575–6 that killed 46,000 Venetians. Palladio was chosen to design a votive church by the doge and Signoria, who vowed to pay an annual pilgrimage on the third Sunday in July for the Festa del Redentore—still the occasion for the biggest fireworks show on the Venetian calendar.
Of all Palladio's churches, the Redentore, consecrated in 1592, is his most successful and harmonious, the simple geometric triangles and rectangles of its façade composed in fine-tuned proportions; like Palladio's Venetian villas it is set above a wide flight of stairs.
The interior, at first glance a simple rectangular nave leading back to an apse, actually opens up into curves on three sides crowned by a beautiful dome, the whole effect 'like a bubble structure softly blown from a tube', as Michael Levey put it. This is where the Signoria gathered for the pilgrimage mass.
Unfortunately it's all become a bit dingy, and the dome is apt to be roped off. On request, the sacristan will open the sacristy, where Alvise Vivarini's Madonna with Child holds pride of place among dusty paintings and some wax effigies from the 1700s.
Hours Mon-Sat 10am-5pm; closed Sun
Adm €3
vaporetto: Redentore
+39 041 275 0462