Titian
In his day, 'The Sun Amidst Small Stars'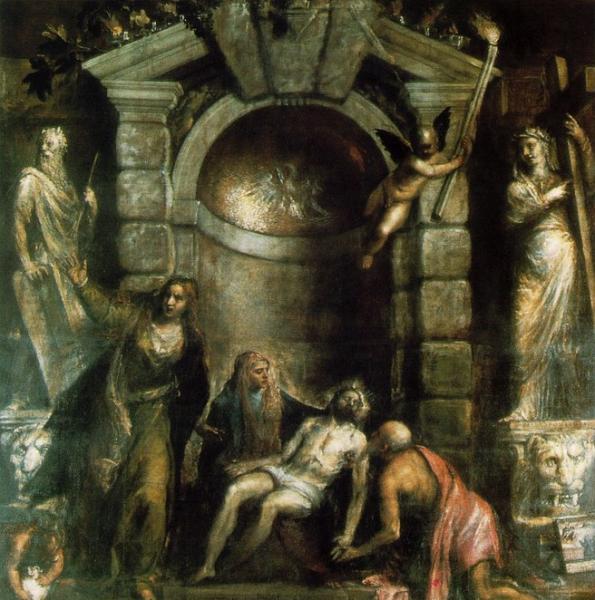 There are many princes, but there is only one Titian. Emperor Charles V
Born in to a modestly successful family of managers in Pieve di Cadore in the Dolomites (then part of the Venetian Republic), Titian (Tiziano Vecellio, c. 1480s–1576), went on to become the 16th-century's most popular Northern Italian painter, the favourite of princes, popes and emperors, famous across Europe (such a favourite, in fact, that most of his very best work is outside Venice). During the course of his long life his style evolved, and changed the history of Western Art.
He was trained from the age of 10 or 12 by Gentile and Giovanni Bellini, the top artist of his day, in whose studio young Titian met Giorgione, Palma il Vecchio, Sebastiano del Piombo and Lorenzo Lotto. One of his first known works, The Visitation of Mary and Elizabeth, now in the Accademia, shows the strong influence of his master.
In 1507-08, he joined Giorgione in frescoing the exterior of the Fondaco dei Tedeschi (frescoes that have all but vanished, but survive in engravings) and even then the Venetians remarked that the younger Titian was the more talented of the two; the attribution of some of their paintings have long been a subject of controversy.
Titian and Giorgione combined to revolutionize Venetian art, taking it from the calm, hierarchic style of Bellini of the early Renaissance to what was then called arte moderna, or the High Renaissance: a new dynamism in composition and interest in new subjects, including the first easel paintings, painted for the pleasure of the viewer. After Giorgione died in 1510, Titian continued to develop his own style, with a rich palette of colours and bolder and bolder brush strokes.
In 1512 he was put in charge of government works and tasked with completing Giovanni Bellini's paintings in the Palazzo Ducale, which along with his later, celebrated life sized Battle of Cadore paintepalazzo's great chamber 20 years later were all sadly lost in the great fire of 1577. He was given a government patent and an annuity in exchange for painting portraits of each successful Doge, and after Bellini's death in 1516 Titian became the undisputed head of the Venetian school.
This was the year that he unveiled his monumental, revolutionary altarpiece: the colour-drenched Assumption in the Frari, with it original composition of tiers between earth and heaven, and sense of movement and emotion that would prove a pivotal influence in the Venetian art. His later, and highly influential Madonna di Ca' Pesaro (1526) also in the Frari, sets the tiers of donors and holy figures in an architectural framework.
Titian followed this with an even more revolutionary, proto-Baroque work, The Death of St. Peter Martyr (1530), in SS. Giovanni e Paolo, full of violence and drama, but the painting was destroyed by an Austrian shell in 1867, and survives only in prints. His ceiling paintings for Spirito Santo from the 1540s, now in Santa Maria della Salute, are startling in their dynamism and dramatic foreshortening.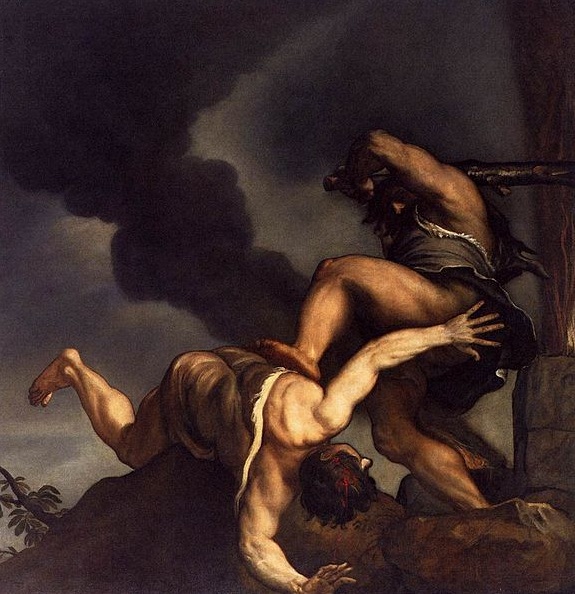 Although Titian spent most of his life in Venice, his international reputation saw most of his canvases scattered around the courts of Europe. His large mythological scenes, his reclining Venuses (inspired by Giorgione's Venus, which Titian completed after his death), his portraits and paintings of young women (the famous Titian blondes, believed to have been modelled on Venetian courtesans) were in demand across Europe.
None were as important as Emperor Charles V, who was a great art lover. Hearing from Titian's friend Aretino that the great artist was short of funds, he invited Titian to Madrid to paint his portrait, and made him a rich man and a Count Palatine. He was became Titian's good friend, and loved to drop in on the artist in his studio; on one famous occasion, Titian dropped his brush, and the emperor himself picked it up and handed it to him, saying with a smile: 'It becomes Cæsar to serve Titian.' When Charles abdicated and retired to the monastery of San Yuste, one of the few things he took with him was Titian's painting of St Jerome.
Charles V's son, Philip II became the great patron of Titian's last 26 years. His portrait of Philip convinced Mary Tudor that she should marry him, and the king would later commission Titan's great mythological paintings, the poesies that all initially went to Madrid before Philip's successors sold most of them off as immoral. Still a number Titian's later paintings survive in Venice, including the delightful Presentation of the Virgin (1539) in the Accademia, San Sebastiano and the Transfiguration in San Salvador (1565).
Titian's students included El Greco, who spent time in Venice on his way to Spain, Tintoretto (apparently only for a few days) and Paris Bordone. He kept many works in his studio and went back to the over and over again. Throughout his career he never stopped evolving; his technique became ever looser and more impressionist, touched with chiaroscuro. At age 90, as he worked on his last painting, he reputed announced: 'I've finally learned how to paint.'
Titan died of fever during the plague of August 1576; his favourite son and assistant Orazio died immediately afterwards. His last work, the Pietà, with portraits of himself and Orazio (in the Accademia) was finished by Palma il Giovane.
Besides the Frari altarpieces, Venice keeps his works in the Scuola Grande di San Rocco (Christ Carrying the Cross, until recently attributed to Giorgione), San Giovanni Elemosinario, the Gesuiti, the Accademia, Ca' d'Oro, Palazzo Ducale, and San Lio.