San Giacometto (San Giacomo di Rialto)
Now the Museo della Musica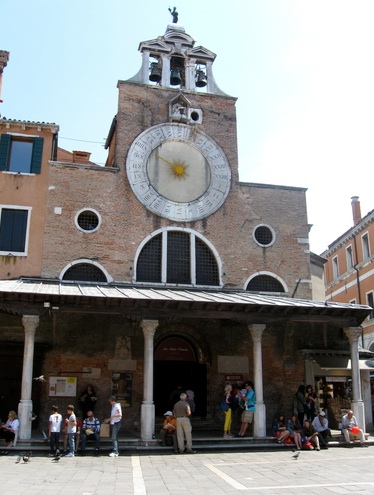 Tradition has it that San Giacomo di Rialto, fondly known as San Giacometto, was the first church built in what is now Venice, perhaps as early as the 5th century. In 1097 it was rebuilt in conjunction with the Rialto markets, but in 1514 it miraculously survived the fire that decimated the rest of the Rialto. It was then fiddled with in 1531 and 1601 to make a stylistic collage that from the outside makes the whole church look like an overgrown mantelpiece clock.
Around the exterior of the apse a 12th-century inscription reads:
Around This Temple Let the Merchant's Law Be Just, His Weight True, and His Covenants Faithful.
The clock's 24-hour face has shown the wrong time ever since its installation in the 15th century; its hands get stuck in the same place for so long that art historians have dated scenes of Venice by the time shown on it. The five-columned porch, a type once common in Venetian churches, is the only original one left in the city; the little bell tower over the clock is Baroque.
The Veneto-Byzantine interior is a miniature mixture of basilica and a Greek cross, decorated with six ancient Greek columns, topped with foliage added in 1097; Alessandro Vittoria contributed the statue of St James with Angels for the main altar.
Campo San Giacomo
The Campo, with its Renaissance arcades, is an elegant ensemble of public buildings, erected in the 1520's as offices for the courts, and for the departments concerned with trade, supplies and finance. There used to be a lot of gold hidden behind those arches, for they also housed the Banco Giro, the second modern bank established in Venice (after the Banco di Rialto). Founded in 1619, and completely government-owned, the Banco Giro has been called the 'world's first central bank'; it provided liquidity for merchants, and also financed the debts of the state. Napoleon shut it down in 1807.
This unassuming Campo (also called Campo di Rialto) was in fact the business heart of the Venetian Empire. Opposite the church, the arcades shelter the 16th-century granite figure of the Gobbo di Rialto, the famous 'hunchback' who was one of Venice's 'talking statues'. There's a stair behind him, and he's really only there to give government officials a step up to the stumpy column called the Pietra di Banda (Proclamation Stone) where the news and the decrees of the Republic were read to the people.
Ship captains and officers would gather here to hear about arrivals and departures. Merchants crowded around for news tips that might affect their business. The Pietra is the twin of the one in Piazza San Marco, and all announcements were made from both simultaneously—so that no one would have an unfair disadvantage from being in the wrong place.
Hours Mon-Sat 9am-5pm, Sun 11am-3pm
Adm Free
vaporetto Rialto