Giudecca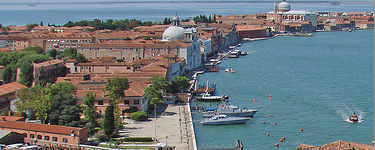 The beautiful painting of Venice in the Bodleian Library's Codex of Marco Polo shows a lagoon full of swans and the Giudecca like a rocky desert, populated only by lions.
No one is sure if this long, tilde-shaped series of suburban islets was named after Venice's Jews, forced to live here before being removed to the Ghetto, or for its more rumbustious nobles, exiled here in the 9th century, far from the action on the Rialto.
For many centuries it was a little garden oasis, until the 1800s, when it became a little Industrial Revolution oasis. Although many of its factories are now abandoned, it is still famously the home of Fortuny fabrics. Over the past few years, glamorous new hotels have arrived to keep company with the Cipriani, Venice's most glamorous hotel, and property prices on the main fondamenta are going up as speculators capitalize on the fabulous view.
The island is also regaining a little of its old independence with its own new bank and small grocery store. For the most part, the Giudecca is still a place where the Venetians go about their daily business with a little more room than the centre affords; some even have flower gardens, an extraordinary luxury in Venice.
Calle di Michelangelo is the only street that crosses the width of the Giudecca; from its far end you can see the Lido. To the west down the picturesque Calle della Croce lies the 'Garden of Eden' (named after the Englishman who planted it), but there's no public access.
Near the Cipriani is Le Zitelle, the first of the string of churches overlooking the channel, followed by the Redentore and Sant' Eufemia, with the boat repair yards along its canal. Here too is Campo San Cosmo, the last (mostly) unpaved one in Venice, and the picturesque Corte dei Cordami (the courtyard of the hawsers), with an impressive row of 18th-century Venetian chimneys. One of the city's few new residential developments has recently been completed here, while the former bocce club is now the Spazio Bocciofila art gallery, used as a space in the Biennale.
Further west is the Fortuny Showroom and factory, next to the striking neo-Gothic former Stucky flour mill (now a Hilton hotel). And beyond that is Sacca Fisola, a landfill island covered with modern flats, and home to Venice's municipal pool.