Sant' Antonin
Pigs and an elephant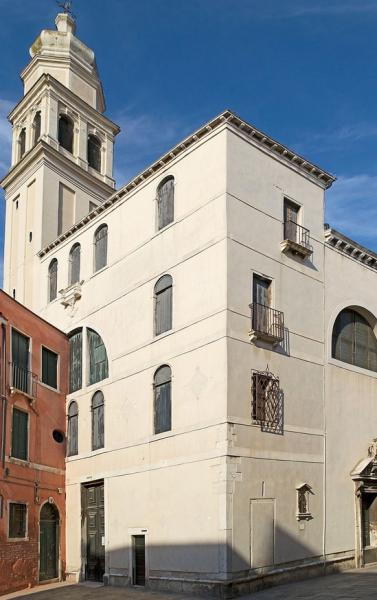 From San Giorgio degli Schiavoni, you can dip down Fondamenta dei Furlani to see the church of Sant'Antonin, which re-opened in 2010 after two decades of restoration. Some 600 years ago you might have been molested by a pig; in honour of St Anthony Abbot, the monks used to keep a herd of free-ranging swine with bells around their necks who visually, orally and olfactorally made such a nuisance of themselves that the Senate ordered them to be penned up in 1409.
Founded by the Badoer family in the 7th century, the current church dates from 1680. Longhena may have had a hand in the plain facade, although it's hardly his style. The onion domed campanile dates from the 18th century; the original had been hit by lightning.
The Interior
The organ occupies the former barco, or women's gallery. The ceiling frescoes are by a follower of Sebastiano Ricci; also look for the Sacrifice of Noah by Pietro della Vecchio by the altar.
The church had a famous chapel of San Saba or (Sabas) commissioned by the Tiepolo family (the doges, not the artists) who had made off with the saint's body in the 13th century. In 1965, Pope Paul VI ordered it returned to its original owners in Istanbul, where for 700 years the Greek monks had been holding services by the empty sarcophagus. The remarkable painting cycle that once adorned the chapel by Palma Giovane (1593) is now the Museo Diocesano. Another work, a Deposition by Carpaccio's master Lazzaro Bastiani, can now be seen in San Giovanni in Brágora.
The Elephant
In 1817, an elephant in a travelling zoo escaped from its chains on the Riva degli Schiavoni and ran amuck through Venice, until it was finally cornered in Sant' Antonin, trying to barricade itself in from its pursuers by piling up the pews with its trunk—a successful manoeuvre until a beam fell and trapped it, and it was shot with a cannon. The episode was mentioned in letters by Byron and then made into an epic poem, Elefanteide, by a poet named Pietro Buratti, who used it to satirise Venice's Austrian rulers—earning himself a month in the clink.
Hours Book ahead for an hour-long guided tour (in Italian, but English is promised soon) on Saturday at 10am
Adm €8, under 5s free
Vaporetto: San Zaccaria
+39 041 2413817