Scuola San Giorgio degli Schiavoni
The school of fairy tale art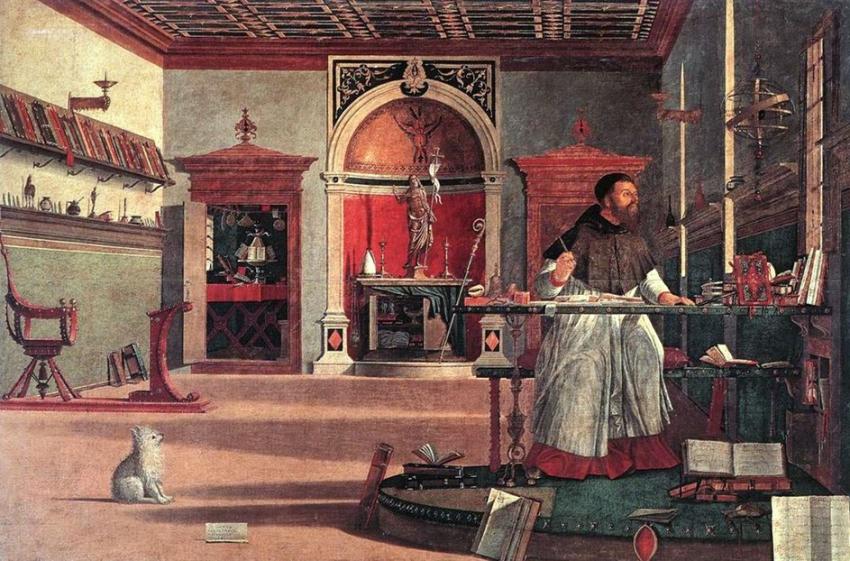 Schiavoni was the Venetian word for the Dalmatians, and the Scuola di San Giorgio degli Schiavoni was their confraternity headquarters – little bigger than Dr Who's police box, but, thanks to Vittore Carpaccio, a Tardis ready to transport you to a world of storybook delight. The relief of St George and the dragon over the door offers a preview of coming delights.
Carpaccio's cycle of nine works on the lives of the Dalmatian patron saints, painted between 1502 and 1508, was originally intended for the hall upstairs. Removed to the ground floor in 1551, it has had the rare fortune to stay there ever since, cosy, warm, glowing with colour, and filled with the exact, literal details that bring the story to life – the bits of undigested maidens by the dragon in the painting of St George, just to the left of the door, or the monster brought to heel in The Triumph of St George. Next is St George Baptises the Pagan King and Queen, followed by an altar of the Virgin and Child by Carpaccio's son Benedetto.
Then Vittore again, with the legend of the obscure Dalmatian Saint Tryphon, St Tryphon Exorcizing Emperor Gordianus' Daughter, whose demon is a pouty little basilisk, followed by The Agony in the Garden and The Calling of St Matthew (which takes place in the Ghetto) and St Jerome Leading his Lion into a Monastery, a creature who wouldn't harm a fly but causes much comical consternation among the monks.
The Funeral of St Jerome is followed by perhaps the best loved painting in the city: St Augustine in His Study, showing the good saint thoughtfully gazing out of the window, watched by his little white dog – the story follows a passage in St Augustine, who describes how he was writing to St Jerome, not knowing he had died, when a heavenly light streamed down and a voice warned him it was too late. Although none of the subjects has anything to do with Venice, they are as infused with the city as if Carpaccio soaked them with a Venetian tea bag.
Campo San Giorgio degli Schiavoni
Hours Tues-Sat 9.30am-5.30pm; Sun 10.30am-2.30pm; Mon 1.30-5.30pm
Adm €5
+39 041 522 8828
vaporetto San Zaccaria