San Polo
Starring Tintoretto, GB and GD Tiepolo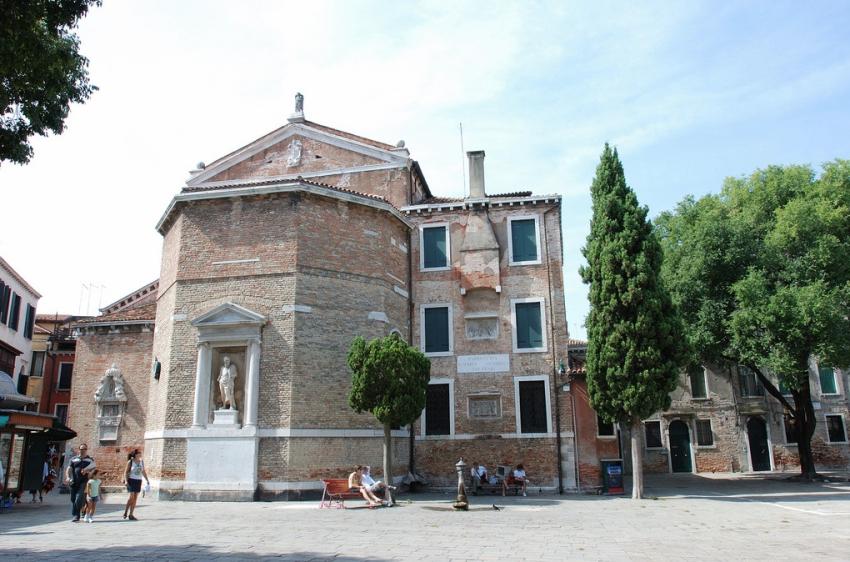 Founded in 837 by Doge Pietro Tradonico and Doge Orso Partecipazio, San Polo (St Paul) occupies bustling Campo San Polo and boasts a number of stalwartly medieval details on its exterior, from its great plaited Gothic doorway and rose window attributed to Bartolomeo Bon to the hungry Romanesque lions under the detached 14th-century campanile. One is eating a snake, and the other a human head... that some say represents Doge Marin Faliero.
The interior of San Polo has been much altered throughout the centuries, especially in 1804, when it was given a set of neoclassical columns to support its ship's keel roof. There are five paintings by Palma Giovane, a Veronese, Giambattista Tiepolo's The Virgin appears to St John of Nepomuk and Tintoretto's darkest and most violent Last Supper (on the left), where Christ is shown literally leaping up from the table.
Equally extraordinary in its own way is Via Crucis series by Giambattista's son, Giandomenico Tiepolo in the church's annexe, the Oratorio del Crocifisso, the building which blocks the façade from the outside and is entered under the organ. Giandomenico got the commission in 1749, at the tender age of 20, and filled it with a certain amount of piety and an even greater amount of precocious pre-paparazzi interest in Venetian high society; the paintings look remarkably like snapshots.
Hours Mon-Sat 10.30am-4.30pm Adm €3
Campo San Polo
vaporetto San Silvestro/San Tomà