San Trovaso and its Campo
And a gondola boatyard, too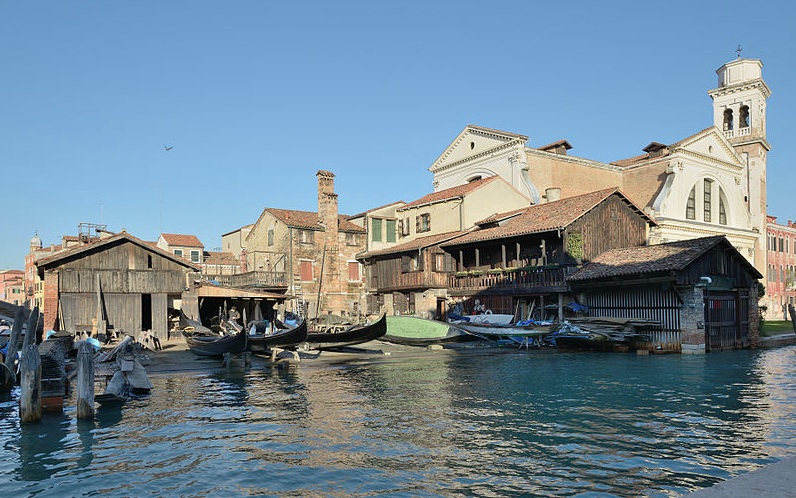 Set back from the Zattere and vaporetto stop is this little campo with its church and picturesque boatyard.
At No.1083, stop to have a look at the reliefs embedded in the wall, a grotesque face and a blacksmith scene over the door, with Cupid bringing arrows to the forge. An even older Byzantine bas-relief is embedded in the side of the 15th-century Palazzo Nani ('of the dwarfs'), just across the bridge.
The boatyard, the Squero di San Trovaso is just over the bridge that leaves the campo; turn right down the Fondamenta Nani for the best view of its row of beached gondolas made extra picturesque by its old wooden balcony covered with geraniums.
The church of San Trovaso has two façades, either of which seems more fitting for a public market or 19th-century factory. It was dedicated to Santi Gervasio e Protasio before the Venetians got hold of the saints and mangled them into a single name. The church held a special place in the city as neutral ground between the Nicolotti and Castellani factions, where they would come together to meet, marry, baptize and bury (each side using its own door).
Originally founded in the 10th century, former San Trovasi churches on this site have burnt down twice and caved in once; this fourth version is true to its factory façades, dark and fairly functional within.
Look in the Cappella della Grazie, just to the right of the (south) door, to see a lovely bas-relief of angels on the altar by the unknown Renaissance 'Master of San Trovaso'; in the chapel exactly opposite is Michele Giambono's Saint Chrysogonus on a horse, a charming work reminiscent of Carpaccio's St George. Tintoretto painted some of his last works for the church, nearly all completed by his son Domenico: a Last Supper in the left transept, and by the high altar, the Adoration of the Magi and Expulsion from the Temple.
Hours Mon-Sat 8am-11am; 3pm-6pm
Adm Free
Campo di San Trovaso
vaporetto Zattere