Santa Maria e San Donato
Murano's Veneto-Byzantine gem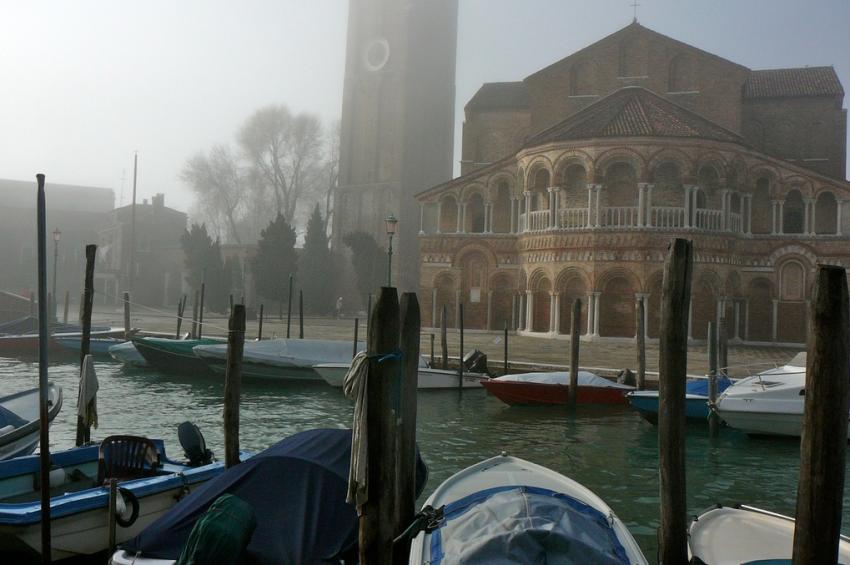 Just beyond the glass museum is one of the finest Veneto-Byzantine monuments in Venice, a contemporary of St Mark's Basilica, with a beautiful arcaded apse reflected in the canal, even if it is altogether far too over-restored by the Austrians according to many critics.
Built in the 7th century, and rebuilt in the 9th century and in 1040, it has a good lunette of the Virgin, and inside, an outstanding 12th-century mosaic pavement (only St Mark's Basilica has another as fine), incorporating pieces of ancient Murano glass, with geometric figures encircling scenes straight from the Middle Ages: two roosters bearing a fox on a pole, an eagle capturing a lamb, griffins, and other less explicable symbols.
On the wall there's a fine 12th-century Byzantine mosaic of the Virgin, and some of the capitals are from the same period. To the left a large painted relief represents San Donato of Euboea, the church's other titular saint, with a flock of midget donors gathered below. His relics were part of an 1125 Venetian relic-raid just outside the port of Parga, in western Greece, led by Doge Domenico Michiel, but in this case the holy raiders outdid themselves, bringing home not only San Donato's bones but those of the dragon, measuring over a metre long, that the good bishop slew with a gob of righteous spit (he had been fouling the River Acheron); you can see four hanging behind the altar.
In an old wall by the campanile are the bas-reliefs of a war memorial.
Hours Mon-Sat 9am-6pm; Sun and hols 12.30-6pm
Adm Free
Fondamenta Giustinian
vaporetto Murano Museo