Museo del Vetro
Murano's glass museum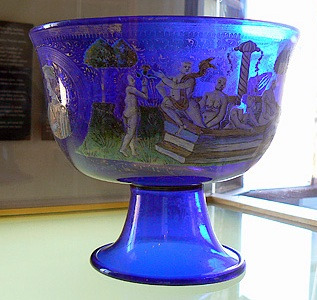 The 17th-century Palazzo Giustinian was built for the bishops of Torcello, but for more than a hundred years it has served as the seat of the glass museum, where you can learn something of Murano's livelihood.
The archaeological section contains ancient Roman glass; examples range from the 1st–3rd centuries AD and include many glass cinerary urns found in Croatia. Upstairs, beyond the 19th-century mosaics of Garibaldi and Vittorio Emanuele II, the multilingual description of ancient and modern glassmaking and its styles is a good background to the glass displayed: utilitarian pre-1400s fragments, and some of the earliest surviving Murano glass, including the famous blue Barovier nuptial cup (1480), with its scene of merry frolicking in a basin; some of the earliest Murano crystal, and an example of the lamps that were painted by quattrocento artists.
Simplicity and elegance went by the board in the 1500s, as the glassmakers indulged, and probably helped create, a taste for the extravagant and bizarre, reaching a kind of epiphany in the 18th century in a model of a garden made entirely of glass.
After the fall of the Serenissima, demand dropped off and many glassmakers went to work abroad, revealing Murano's ancient secrets. In 1859, a school of glass making was created to revive the dying art; the current museum began as its archives, and holds representative works from every era up to the present. There's so much of it, in fact, that the museum was recently enlarged.
Hours Apr-Oct 10am-6pm; Nov-Mar 10am-5pm
Adm €10; €7.50 ages 6-14; students 15=25; and over 65s; €12 (€8 reduced) combined ticket with Burano's Museo del Merletto.
Fondamenta Giustinian 8, Murano
+39 041 739 586