Palazzo Querini (former)
Once the residence of Rousseau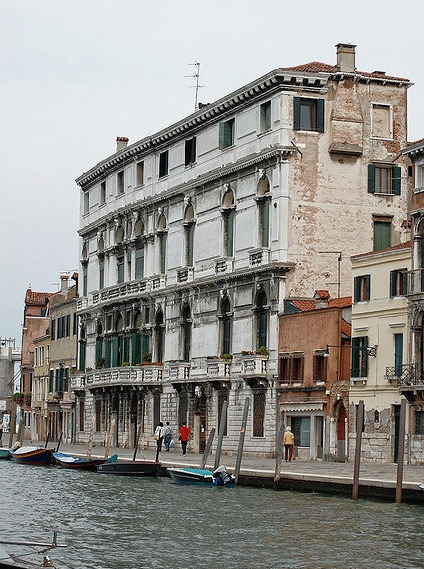 Baldassare Longhena designed this palace in Cannaregio for the procurator Tommaso Querini. In 1743-44, it became the French embassy and hosted Jean-Jacques Rousseau, who worked as the Secretary to the French Ambassador, the Comte de Montaigne. He was so irregularly paid that he quit after 11 months.
Had Rousseau been better paid and stayed in Venice, he might never have become one of the leading philosophers of the Enlightenment. Just before going to Venice, he had decided to make his career in music, composing an opera, Les Muses galantes in 1742, and inventing a new form of musical notation that he had submitted to the Académie des Sciences in Paris. The Académie was impressed but said non, merci.
In Venice, Rousseau (who in in his Confessions admitted to a previous 'Parisian' prejudice against Italian music) fell headlong for opera and the glorious singing of the orphan girls in La Pietà and other Ospedali. But forced by poverty to return to Paris, he became friends with Diderot and wrote articles on music for the Encyclopédie. He dabbled once more in music, in 1752, composing both the music and words of a one-act opera, Le Devin du village (The Village Soothsayer).
It was a massive success: Louis XV offered him a pension (which he refused to take, much to everyone's amazement), and Le Devin was performed at the wedding of Louis XVI and Marie Antoinette. The 12 year old Mozart composed a parody. But it turned out to be one-off: Rousseau would refuse all future offers to continue his career as a composer. But had he remained in music-mad Venice, who knows if The Social Contract would had ever been penned.
Fondamenta Cannareggio
vaporetto: Tre Archi