Getting There and Around
Arriving and messing about in boats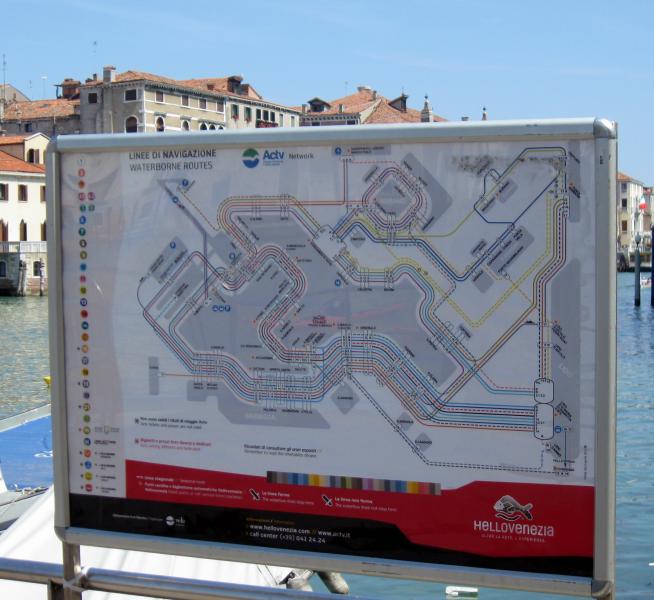 It's astonishing how tiny Venice looks, even in its own lagoon, if you arrive by air and are sitting on the right side of the plane.
GETTING THERE
By Air For transport to Venice from the airports, see Marco Polo Airport and Treviso Airport.
By Sea Smaller vessels and hydrofoils call at San Basilio on the west end of the Zattere. Large cruise ships and ferries from Greece, Croatia, Slovenia etc call at the Stazione Marritima.
By rail The train will take you straight to Venice's doorstep, Stazione Santa Lucia.
By bus Venice's bus terminal is opposite the train station in Piazzale Roma.
By Car There are multistory car parks in Piazzale Roma and Tronchetto, with places that can be booked in advance online. Another possibility is the Mestre Parking Station, a three minute walk from Mestre train station.
People Mover Every ten minutes a monorail (€1.50) links Piazzale Roma, the Stazione Marittima and Tronchetto.
GETTING AROUND
Your feet will take you almost anywhere in Venice, but every now and then you may want to save on the old shoe leather or visit an island in the lagoon. In the old days everyone hired gondolas to get around, and if money is no object, you still can. Most people, however, prefer to travel faster and cheaper.
Most public transport by sea and land in Venice is provided by Actv, which runs the main vaporetto or water bus services around Venice, ferry boats to the Lido and buses to the airport and on the Lido, etc. You can download an app with route and timetables here. Prices for vaporetto transport for up to 75 minutes are €7.50, which can add up to a serious chunk of change.
If you plan to travel around the city, save money before you arrive by booking a VeneziaUnica card, a bespoke pass to transport and the city's museums. The card also offers discounts on Alilaguna routes to and from Marco Polo Airport and the islands. For more information, contact Venezia Unica on +39 041 2424 or visit their website.
For bus and boat connections between Venice and the seaside resorts on the north end of the lagoon (Lido di Jesolo, Eraclea Mare, Caorle, Bibione, and Lignano Sabbiano), see Quickly to Venice.
Expensive but fun, the motoscafi or motorboat taxis are available to book 24 hours a day; reserve one online from the Consorzio dei Motoscafi Venezia or ring +39 041 5222303. The motoscafi become considerably more economically if you're travelling in a bunch, as same rate applies if you are one person or five (from 6-10 passengers, each additional person pay €10).
Or hire your own Topetta boat (up to six passengers, no license required) at Brussa is Boat(website in Italian only), based on the Cannaregio Canal near the Palazzo Labia.