Columbus Monument
Irony in iron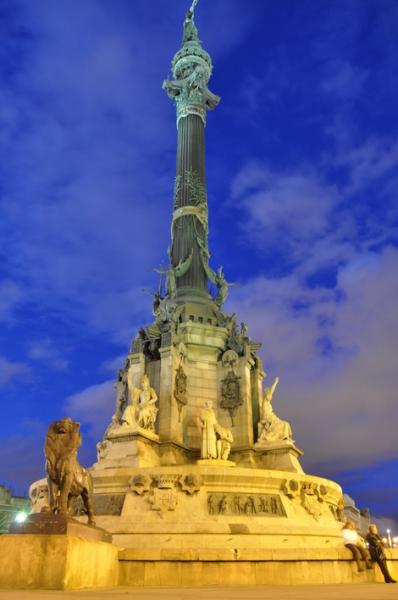 The world's biggest monument to Christopher Columbus, Barcelona's 225-ton Monument a Colom was erected where the Ramblas meets the Passeig de Colom, at the very spot where he arrived in 1493, to meet Ferdinand and Isabella and receive the title of Admiral of the Ocean Sea.
Designed by Gaietà Buigas i Monravà in the early 1880s, and rushed through to be completed in time for the Universal Exhibition of 1888, its 164ft cast-iron column is made of melted cannons from the hated Castell de Montjuïc and topped with a statue of Columbus. A lift ascends to Columbus' feet for the big view — the very first elevator, according to Barcelona's indefatigable boasters, to be installed in a column.
The question is: what in the heck is Columbus doing here in the first place? This is the man, more than any other, who caused Barcelona's commercial decline, as the newly united Spain of the Catholic Kings turned away from the Mediterranean to the Atlantic. Seville took over as the country's premier port, and to add insult to injury, Barcelona was even banned from trading in the Americas—until the 19th century. Note that Columbus has his back to Castile, and points not to America but to Italy (where Barcelona's merchants quite frankly wish he had stayed).
Actually the intention in 1888 wasn't as much to glorify Columbus as to catalanize him. Barcelona does in fact have some mostly minor Columbus associations, all of which are celebrated in the statuary around the base of the pillar. On his second voyage, for instance, he took along a Catalan priest, Bernat de Bol, who became the first bishop in the New World.
Many Catalans also believe Columbus was really, in fact, a Catalan. He certainly did go to great lengths to obscure his origins, prompting theories over the years have that he was really a Colom from Girona (Gerona), which could easily be confused by a slip of the pen with Genoa. Others claim he was a Catalan Crypto-Jew (there are certain clues in his writing) perhaps from Mallorca. Mallorca was famous for its maps, which would explain where Columbus and his brother picked up their unusual cartographic skills.
Catalan nationalists are divided on the subject: either his glorious Catalan roots have been hidden by perfidious Castilians, or else they disown him: a replica of his ship the Santa Maria, moored near the statue, was burned by militants in 1989, and events celebrating the 500th anniversary of his discovery in 1992 were boycotted —even the choral societies refused to sing.
Plaça Portal de la Pau
Hours 8.30am-8.30pm
Adm €6, €4 students and over 65s
metro: Drassanes