Poble Espanyol
Fake is better than real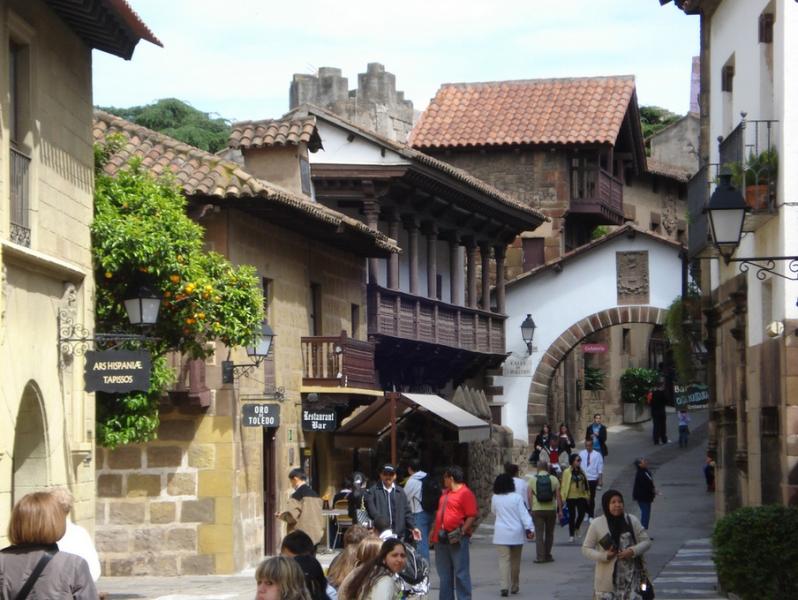 For all of Catalonia's efforts to set itself apart from the rest of Spain, it's ironic that nestled in the capital's generous bosom of Montjuïc lies a little walled mini-Spain. Not only is it there, but every so often it lurches back into fashion.
One of the favourite exhibitions of the 1929 International Exhibition, the Poble Espanyol was an idea promoted by the architect Puig i Cadafalch devoted to Spanish handicrafts, in a setting designed as an anthology of the country's architecture: 'Get to Know Spain in an Hour!' was the slogan. Replicas of 117 famous and not so famous buildings were cunningly arranged with Disneyland deftness, a bit of Andalucía here, a bit of Basque there. It was supposed to last six months, but it was too popular to destroy. During the Civil War, the fact that it was walled made it a convenient internment camp.
In 1990, when the whole tourist schtick of fake old Spain was nodding off in its polkadot flounces, the Poble Espanyol was head-butted awake by fashion and something from beyond fake, the Torres d'Avila, at the time the most costly, magical, monstrous, slick, tongue-in-cheek designer bar in Barcelona. New ones have taken their place.
Today the Spanish village wears many hats: it's a museum of Spanish architecture (€3 audio guides explain all). It has over 40 crafts workshops (guitar makers, glass blowers, soap makers, embroiders, etc). There are spaces for contemporary art exhibits and a contemporary sculpture garden. The peacefulness of an enclosed area far from traffic makes it a favourite place for families and students (it has Barcelona's theatre school), and it often hosts special activities during the school holidays; at night its 15 or so bars and restaurants are a favourite spot for a drink, dinner, flamenco show or concert: you never know who might appear!
Avda. Francesc Ferrer i Guardia, 13
Hours Mon 9am-8pm; Tues, Wed, Thurs and Sun 9am-midnight; Fri 9am-3am; Sat 9am-4am. Box office closes an hour before the last admission.
Adm €12.60; €9 over 65; €10.50 students, €6.30 ages 4-12, under 4 free. Family (2 adults, 2 children) €36. Night ticket €6.30 (after 8.30pm). Discounts if you purchase tickets in advance on their website, which also has a special offer money on combined ticket (€20) with MNAC.
metro: Espanya
+34 93 508 63 00