Font Mágica
Aquatic boogie-woogie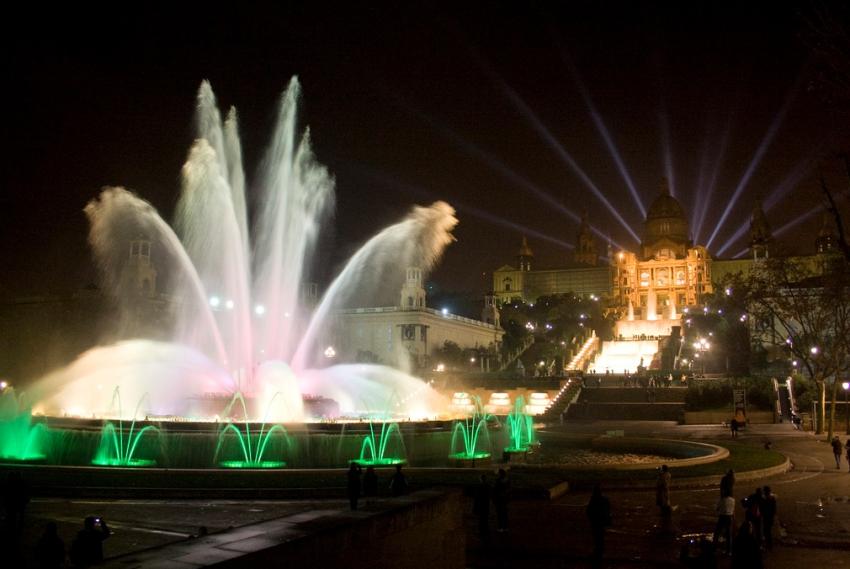 Hardly worth more than a second glance during the day, the cascades and the Magic Fountain come to life on weekend evenings, performing an extraordinary water ballet of colour and light bouncing to the rhythms of Tchaikovsky or Abba while a spoke of coloured lights forms a peacock's tail behind the Palau Nacional. It's pure cheese, and pure enchantment—and free.
Its origins were close to magical. In 1928, only a year before the International Exhibition opened, engineer Carles Buïgas i Sans submitted plans for a display that would demonstrate the potential of electric light (harking back, perhaps, to the original intentions of the fair). It seemed extremely complicated; no one thought it could be done, much less on time for the Exhibition.
With a team of 3000 workers, Buïgas proved them wrong, and on 19 May 1929 turned on the Font Mágica for the first time, and instantly the Exhibition had its star attraction. After years of neglect under Franco, it was refurbished for the 1992 Olympics, when it saw its greatest moment of fame and glory, thanks to the warbles of Montserrat Caballé and Freddie Mercury and is now better than ever. Every year for the Festa de La Mercè it has its greatest moment of glory, dancing to the fireworks.
Hours Shows every half hour. Spring & Summer: Wed-Sun 9pm–11.30pm. For other times see barcelona.cat
Av de la Reina Maria Cristina
metro: Espanya