Palazzo della Mercanzia
Medieval Business HQ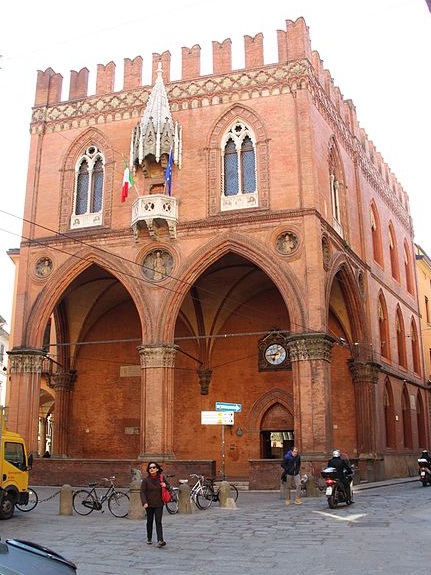 Modest, but nevertheless one of Bologna's finer buildings, the Gothic Palazzo della Mercanzia (1384), served as the merchants' exchange and customs house, headquarters of their guilds and the twelve consuls, who were charged with settling business disputes and keeping up the city's canals. It has an ornate Gothic loggia by the architect of San Petronio, Antonio di Vincenzo—though it owes much of its current appearance to the indefatigable restorer Alfonso Rubbiani. The little balcony above it is the place from which the news of the day and the decisions of the consuls would be announced. Beneath it, swindlers and other financial miscreants would be chained to the central pillar for the crowds to jeer at.
The medieval system based here lasted, somewhat anachronistically, until the Napoleonic occupation. Today, fittingly enough, it is home to the Chamber of Commerce, and it is where Bologna solemnly guards its greatest treasures—the official measure for the width of tagliatelle, and the official recipes for tortellini, ragú, certosino (Christmas fruitcake) and lasagna verde.
Around the Palazzo, on Piazza della Mercanzia, are houses equally as old; around the corner on Via S. Stefano is the 13th-century Torre Alberici.