Palazzo Magnani
A Bank Frescoed by the Carracci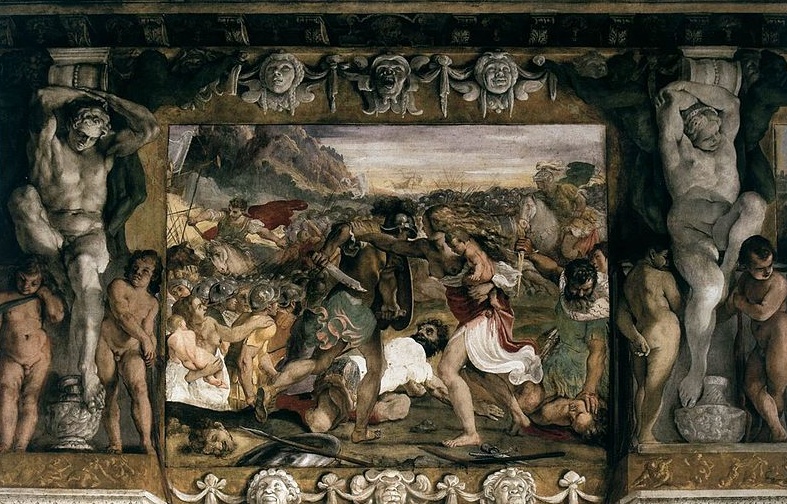 The Palazzo Magnani-Salema, built for the wealthy banking Magnani family, is one of the finest Renaissance houses in Bologna, designed by Domenico Tibaldi and completed after his death in 1577 by Floriano Ambrosini. In 1590, Lorenzo Magnani celebrated his election as Senator by commissioning Annibale, Agostino and Ludovico Carracci, who had previously adorned the Palazzo Fava, to fresco the showcase first floor piano nobile with a series of Stories of the Founding of Rome.
Carrying on from the chiarascuro deities they painted in the Palazzo Fava, combined with more than a parting glance at Michelangelo's ignudi in the Sistine Chapel, the Carracci framed each scene (because of the nature of the subject, nearly all are violent) in striking trompe l'oeil style, with large, muscular nude statues and naked boys, creating a curious stage effect, as if Rome were being born in a series of Baroque movie theatres.
The palazzo in now owned by the UniCredit Banca, which besides the Carracci room has a remarkable fireplace by Ambrosini and a fresco by Annibale of the Lupercali games, and a gallery with paintings by Dosso Dossi, Guercino, and Giorgio Morandi.
Via Zamboni 20
Hours Open by appointment
+39 051 6408221