Agnolo Bronzino
Mannerist Chic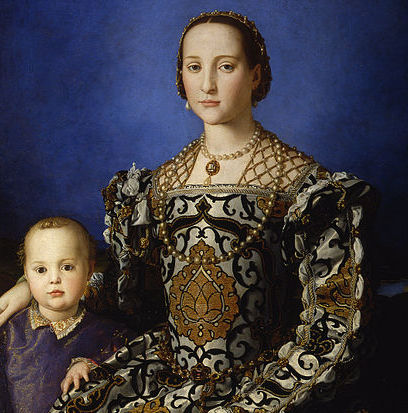 Agnolo di Cosimo (1503–72), son of a butcher in the Monticelli district, probably got his sobriquet 'Bronzino' from his dark olive skin. He studied with Pontormo, who would be a friend and major influence for the rest of his life. (Possibly a lover too; Bronzino later spent decades living with the painter Alessandro Allori.)
Bronzino became the leading Florentine Mannerist after Michelangelo, a man equally at home painting characterful portraits, solemn religious scenes, or erotic allegories; his most famous work is probably the provocative Venus, Cupid, Folly and Time in London's National Gallery.
Bronzino's cool, glossy hyper-elegant style made him a natural as a court painter, and his career was assured when Cosimo I hired him to promote the family and its new grand-ducal status, after his marriage with the glamorous Eleanor of Toledo. His celebrated portrait of her was a fashion sensation; they say she had herself buried in that dress.
Long rated low by the critics, like Mannerism in general, Bronzino seems at the beginning of a Botticelliesque revival. Few painters of any era could match his virtuosity and sense of style.
Works are in the Uffizi, Palazzo Vecchio, S. Lorenzo, SS. Annunziata, S. Felicitá