Domenico Ghirlandaio
Quattrocento Fresco Master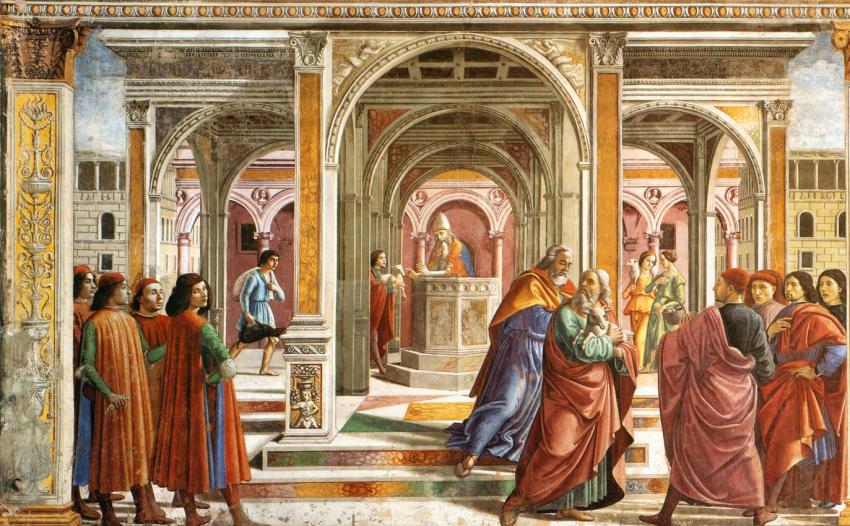 Florentine Domenico Ghirlandaio (c. 1448–94), was born Domenico di Tommaso di Currado di Doffo Bigordi, but earned his nickname Ghirlandaio or 'garland maker' from his father, a goldsmith, who was his first teacher, because of his expertise in making the then-fashionable women's metal headdresses. He was to have been an apprentice to Alesso Baldovinetti and perhaps Andrea del Verrocchio.
Some of his earliest works are in Sesto Fiorentino's church of Sant'Andrea a Cercina. He sometimes worked with his brother Davide (see the Last Supper at the Badia a Passignano, in Greve in Chianti. He in turn taught the young Michelangelo cross hatching and a few other things (Michelangelo was loathe to admit that he ever had to learn anything from anybody).
Ghirlandaio, along with Botticelli and Signorelli, contributed frescoes to Rome's Sistine chapel walls, but above all was the painter of Florence's quattrocento establishment, master of non-challenging colourful, fresco cycles (with the help of a big workshop) in which he painted all the Medici and Florence's banking elite. He was also great portraitist with a distinctive, dry, restrained style.
His masterpiece is the Sassetti Chapel in Santa Trínita, but also see his Cenacolo at Ognissanti, his beautiful Adoration of the Magi in the Museo degli Innocenti and the fresco cycle in the Sanctuary of Santa Maria Novella.