Giambologna
Mannerist Virtuoso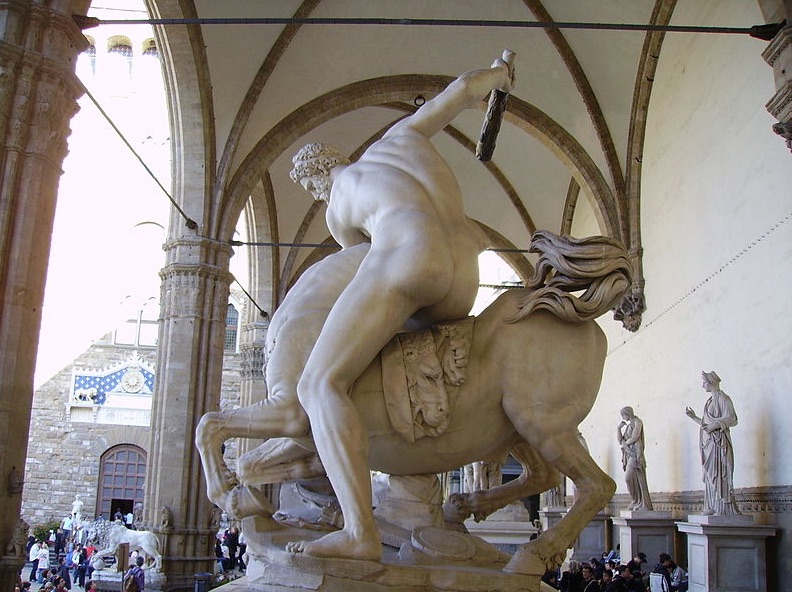 Giambologna (1529–1608) was a Fleming, born Jean Boulogne, who came to Italy and was inspired by Michelangelo, although he quickly found his own path, with his talent for depicting movement and special taste for the outlandish. One of the great masters of Mannerist virtuosity, he became the court sculptor to the Medici after 1567; in fact they never allowed him to leave the city out of fear that some other ruler might pinch him.
His most prominent works in Florence are the statues of the Rape of the Sabine Women (1574), a work that he completed, challenged (like Michelangelo and his David by a single block of marble) before it had a name and the Hercules Fighting the Centur Nessos, both in Loggia dei Lanzi.
He was famous for his statues of Venus (there's one in the Villa della Petraia) and another in the Boboli Gardens, and his fountains, including the massive one of the Giant Appennino at Pratolino.
He was also adept at bronzes large and small. He added one of the last saints, Luke, to the facade of Orsanmichele in 1602 and the enormous equestrian Monument to Cosimo in Piazza della Signoria, and another late one to Ferdinand I in Piazza Santissima Annunziata. His animal sculptures made for the grotto of the Villa Medicea of Castello (originals now in the Bargello) are among the museum's most charming inhabitants. He made the famous little devil, now in the Museo Bardini and the miniaturs in the Studiolo di Franscesco I in the Palazzo Vecchio.
He also occasionally worked as an architect, designing chapels for San Marco. After his death in Florence (he's buried in a tomb he designed in SS. Annunziata) his studio and unfinished works were taken over by his star pupil, Pietro Tacca; his stylistic heir would be Bernini.