Giotto's Campanile
Italy's Most Beautiful Bell Tower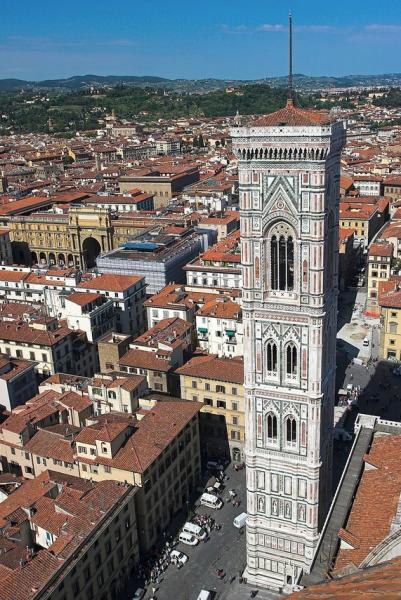 There's no doubt about it; the dome steals the show on the Piazza del Duomo, putting one of Italy's most beautiful bell towers in the shade both figuratively and literally. The dome's great size—364ft to the bronze ball —makes Giotto's Campanile look small, though the 278ft is not exactly tiny.
Giotto was made director of the cathedral works in 1334, and his basic design was completed after his death (1337) by Andrea Pisano (central third) and Francesco Talenti (top third).
It is difficult to say whether Pisano and Talenti were entirely faithful to the plan. Giotto was an artist, not an engineer. After he died, his successors realized that the thing, then only 38ft high, was about to tumble over, a problem they overcame by doubling the thickness of the walls.
Pisano is also said to have replaced Giotto's original plan for reliefs on the tower's second register with niches for statues of Kings and Sibyls and statues of the Patriarchs and Prophets (including Donatello's superb Sacrifice of Isaac).
The Reliefs
Besides its lovely form, the green, pink and white campanile's major fame rests with Pisano and Talenti's sculptural reliefs – a veritable encyclopaedia of the medieval view of the universal order, beginning with the Creation of Man and ending the Sacraments that redeemed him. Along the way are allegories of the planets, virtues and sacraments, the liberal arts and industries. The artist's craft is fittingly symbolized by a winged figure of Daedalus. Some of the later ones were added by Luca della Robbia.
All of these are copies of the originals now in the Museo dell'Opera del Duomo.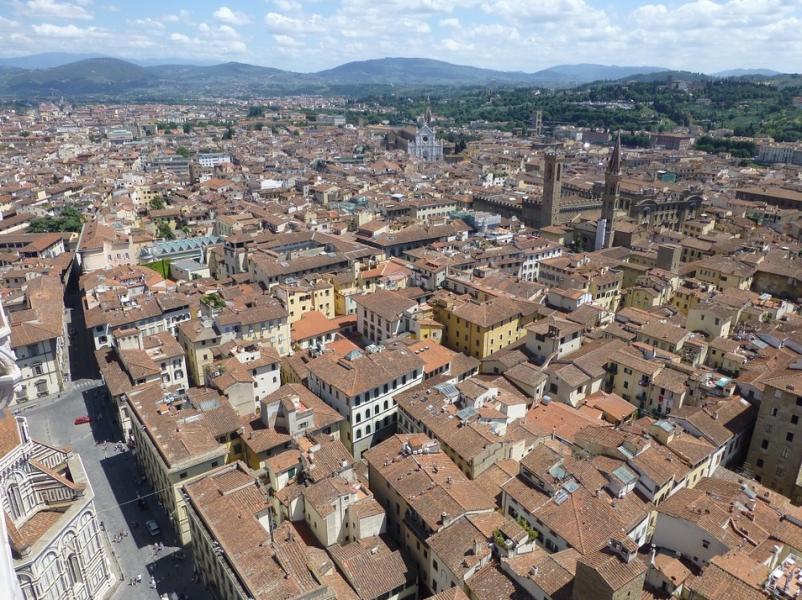 If, after Brunelleschi's dome, you have the puff for another 415, the terrace on top of the campanile offers a slightly different view of Florence than from the cathedral itself.
Piazza del Duomo
Hours Daily 8.15-6.50pm, later in summer
Adm the €18 cumulative ticket, €3 (ages 6-11), under 6 free. Tickets bookable online for a €2 fee per person. The ticket, wherever you purchase it, is good for 72 hours from your first entrance. The ticket includes the Museo dell'Opera del Duomo, Baptistry, the Cathedral Crypt and Brunelleschi's Dome (see Duomo di Santa Maria del Fiore).