Ottone Rosai
Master of Magical Realism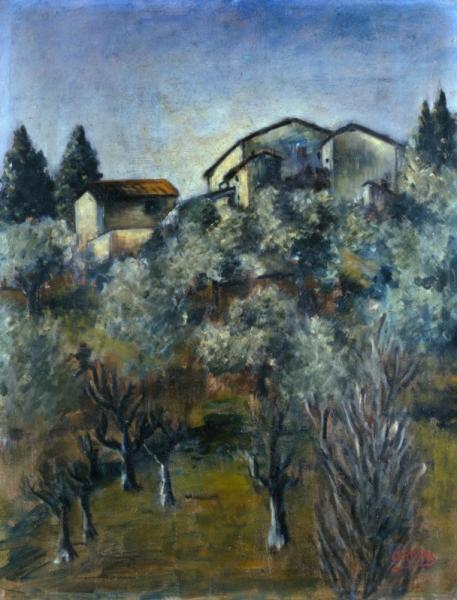 Florentine Ottone Rosai (1895–1957) was born in the San Frediano quarter, the third of four children to a poor family, and as a boy was expected to take up his father's carpentry workshop. Instead, he showed enough talent as an artist to be admitted into the Istituto d'Arti Decorative by Sante Croce and the Accademia, although he was thrown out of both, preferring to spend time in his old haunts, painting the streets and faces of the people there.
Even his closest friends agreed that he was a difficult character.
Rosai flirted early in his career with the Futurists and Cubists. After fighting in the First World War (he was wounded twice and was awarded a medal for courage) he wrote about his experiences in the first of several books, The Book of a Hooligan (1919) and left the Futurists behind for a study of early Florentine masters, especially Masaccio and Fra Angelico, although Cézanne would be the greatest influence in his work as he painted the streets of a now long lost Florence and the omini 'the defeated' ordinary people doing ordinary things, developing his unique magical realism style.
When his father, overwhelmed by debt, drowned himself in the Arno in 1922, Ottone had to take over his wood working shop to support the family, and remained there for nearly a decade, painting whenever he could.
He joined the Fascist party, but got into trouble when his fierce anticlerical sentiments inspired a pamphlet condemning Mussolini's Latern accord in 1929. His comrades threatened to out him as a homosexual, compelling him to avoid a scandal by marrying an old friend, Francesca Fei, who tolerated his affairs; many of his paintings were nudes of the street hustlers he picked up, which as noted in gay histories, has led to only a partial appreciation of his oeuvre in Italy.
His work began to be noticed and he exhibited by invitation at the 1932 Venice Biennale. Not long after, he separated from Francesca and moved into a studio on the outskirts of the city of Via San Leonardo. It was during this period that he produced his finest work with their innovative colouring, his forms pared down to near-abstract simplicity Sulla strada di Compiobbi (1932) and Via San Leonardo (1938).
Having a Fascist party card would get Rosai out of several scrapes, and eventually got him a teaching post at the Accademia during the War, although it was revoked at the end of the war. There was a major retrospective of his work at the 1956 Biennale, the year before he died and retrospective in Florence in 2008. See his paintings in Florence in the Museo del Novecento.