Simonetta Vespucci
Who's That Girl?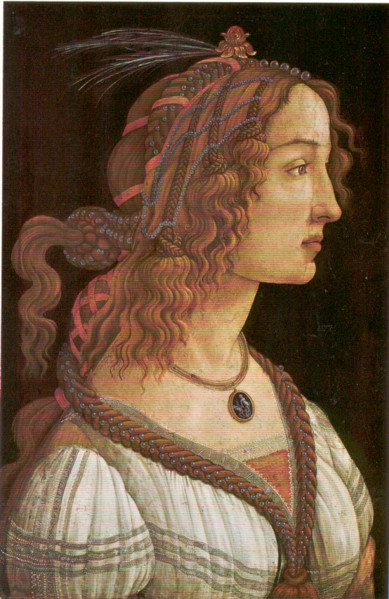 Scholars speculate endlessly concerning the ethereal red-headed bombshell in Botticelli's Venus, the Primavera and so many other paintings, a woman that rivals Leonardo's Mona Lisa as the most provocative figure in Renaissance art.
Some see her as a construct of perfect beauty, or intellectual beauty, a sort of Platonic form of woman. To the Neoplatonists, according to the scholar of Renaissance mysticism Frances Yates, she was the planet Venus itself, the most benevolent of the stellar influences. There is a strong possibility she was also a real person: Simonetta Vespucci, a Genoese noblewoman (related by marriage to Amerigo Vespucci) who was hailed as the most beautiful woman of the age.
Simonetta came to the Medici court for her wedding at age fifteen and bowled over all the Florentines, including Lorenzo de' Medici's brother Giuliano and also, apparently, Botticelli. There is no evidence that conclusively proves Venus was really Simonetta, but the resemblance from portraits said to be hers are striking (Piero di Cosimo painted her as Cleopatra, complete with asp).
Simonetta died aged only 22, possibly from tuberculosis. Botticelli supposedly expressed a wish to be buried at her feet—and in fact they are buried near each other, under matching rondels on opposite sides of the altar, in the Ognissanti.
Recently, Simonetta reappeared as a character in Salman Rushdie's The Enchantress of Florence.