confit
preserved by slowly cooking in fat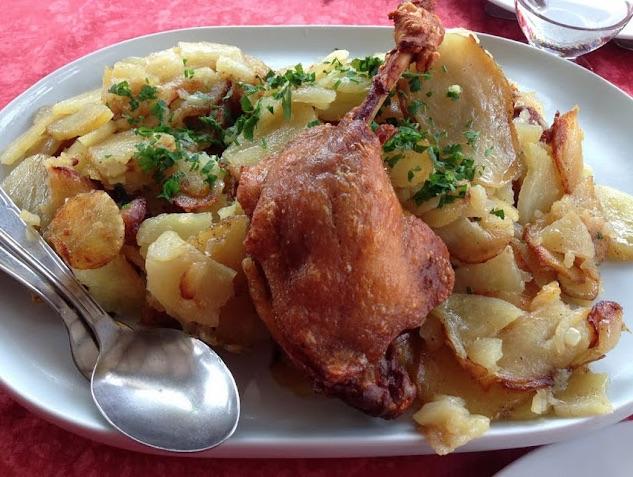 When you just see confit on a menu it almost always means a confit de canard, the thigh and leg of a fatted duck, and rarely goose confit d'oie. Legs, thighs, manchons (lower bit of the wing) and gizzards are traditionally preserved this way, put up in jars or cans with fat (usually a mix of lard and duck fat) and cooked slowly.
Confits de canard reheated until crispy are one of the joys of travelling in southwest France. They are also an ingredient in hearty regional dishes such as cassoulet and garbure.
Other common confits
You can also find pork and chicken confits, and fruit confit and...
Confit de figues: fresh figs cooked with balsamic vinegar, brown sugar, lemon juice and olive oil; often served with foie gras.
Confit de vin blanc is the same as gelée de vin blanc—white wine jelly, often flavoured with cardamom, cinnamon and star anise; good with foie gras or used to deglaze a sweet-sour dish.
Confit d'oignon: a slightly sweet-and-sour relish made from chopped onions, melted in butter or oil, with sugar and a dash of vinegar, which goes nicely with a fondue Bourguignonne. Some call it confiture d'oignon.