Chios
Homer, mastic, rockets and mosaics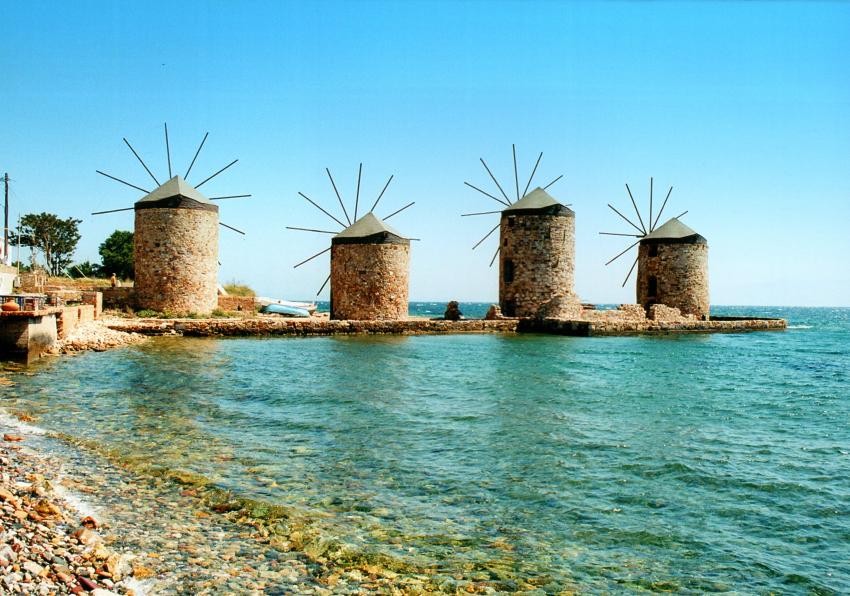 Soak me with jars of Chian wine and say 'Enjoy yourself, Hedylus. I hate living emptily, not drunk with wine. Hedylus, c. 280 BC
Chíos is a fascinating and wealthy island, the fifth largest in Greece, celebrated for its shipowners, friendly good humour and the gum mastic that grows here and nowhere else in the world.
It has lush fertile plains, thick pine forests, mainly unspoiled beaches, Mediterranean scrublands tufted with maquis and startlingly barren mountains that bring to mind the 'craggy Chíos' of Homer, who may have been born on the island. Its architecture is unique and varied, and its church of Néa Moní has some of the finest 11th-century Byzantine mosaics anywhere.
History
Inhabited in the Late Neolithic (c 4500 BC), Chíos was colonized by pre-Hellenic seafaring Pelasgians who left walls near Exo Dídyma and Kouroúnia and a Temple of Zeus on top of Mount Pelinaío. The Mycenaeans followed, and were in turn usurped in the 9th or 8th century BC by Ionians from Evia (it was their northernmost settlement); one tradition asserts that Homer was born here shortly after.
Text © Dana Facaros
Images by 17qq, Chios.gr, Jose Alemañ Asensi, Pavlos Avagianos, PD Art, P'Tille