Corfu's West Coast
The land of Nausicaä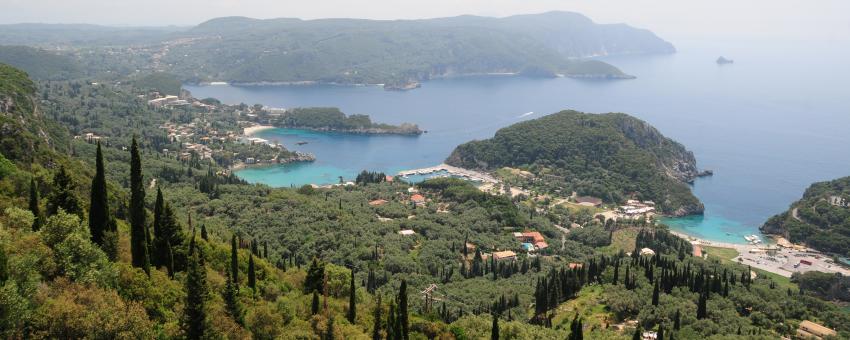 Northwestern Corfu is spectacular, mountainous, and covered with forests. Cliffs plunge, castles loom over the sea like illustrations from fairy tales, and the sunsets can knock your socks off. Once off the main roads, though, take care unless you're in a 4x4.
The good coastal road from Sidári on Corfu's North Coast cuts off the corner en route to Ag. Stéfanos (not to be confused with the Ag. Stéfanos on the east coast), a large bay with wide sand and windsurfing, and a dramatic vertiginous walk along the pale cliffs.
Aríllas just south has a charming, laid back alternative vibe and a sandy, steep bay with an attractive backdrop of green hills and views over the Diapontia Islands. The seaside cliffs offer a free skin-softening treatment: coat your body in clay and sea water, let it dry, wash off.
Text © Dana Facaros
Images by dronepicr, Marc Ryckaert (MJJR), Petr Aust, User:Dr.K. (talk) 00:40, 22 October 2008 (UTC), Vince Smith, Z thomas