Santa Maria Materdomini
Prettier inside than out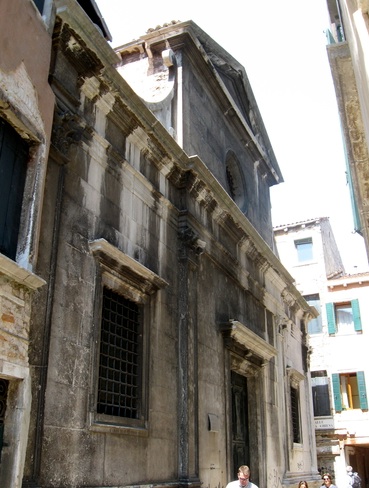 Tradition has it that this church was found in the 10th century by the Zane and Cappello families. Originally dedicated to St Christina, it was rededicated to the Mother of God in 1128. In the early 16th century it was rebuilt, but of uncertain paternity (probably by Mauro Codussi, although some say Giovanni Buora), with an Istrian stone façade in dire need of a scrub, looming over a narrow lane.
But step inside: Santa Maria Materdomini has a cool grey and white Renaissance interior with half-moon clerestory windows and its own Tintoretto, The Invention of the Cross, to the left of the main altar. Its subject is the medieval Legend of the Holy Cross, only with the usual Tintorettonian twists – the ghostly white background, the glaringly anachronistic bishop and Turk in the assemblage do their best to look nonchalant. Ruskin wrote:
"Finding of the Cross," by Tintoret, a carefully painted and attractive picture, but by no means a good specimen of the master... There is no wonder, no rapture, no entire devotion in any of the figures. There are only interested and pleased in a mild way; and the kneeling woman who hands the nails to a man stooping forward to receive them on the right hand, does so with the air of a person saying, "You had better take care of them; they may be wanted another time." ...
On the first altar on the right are Three Saints, sculpted by Lorenzo Bregno in 1524, who is responsible for most of the carving in the church; Bonifazio's Last Supper, is opposite the Tintoretto. The Martyrdom of St Christina by Vincenzo Catena, one of the favourite paintings of the Venetians, who love its sweet little angel holding the millstone that had been tied around the saint's neck when she was thrown into Lake Bolsena.
Just opposite the church is the entrance to the charming campo, which, with its old well-head and houses, wears the Middle Ages like a worn, but very comfortable pair of shoes.
Campo Santa Maria Materdomini
vaporetto San Stae