Gobbo di Rialto
The Hunchback in the Market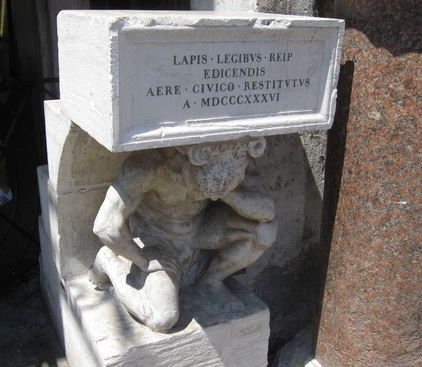 Opposite the church of San Giacometto, and usually surrounded by market crates, crouches the granite figure of the Gobbo di Rialto (1541, restored 1836) , the 'hunchback' supporting a heavy stone platform with stairs leading to the top. Here, the Republic's comandador would climb up, and hop on to the adjacent column called the Pietra del Bando ('proclamation stone') to read out new decrees to the public and announce the departures and arrivals of important ships.
This Pietra del Bando is almost identical to the one in front of San Marco; in fact, both were cut from the same column, brought home from Acre during the Crusades. These stones were important landmarks in the old days, when the Campo di San Giacometto was the business centre of Venice. The Serenissima arranged for the news and decrees to be proclaimed from both at exactly the same time—then as now, time was money.
The Gobbo had other jobs besides simply supporting a stairway. Men convicted of petty crimes were made to run naked through a gauntlet of blows from the stone in Piazza San Marco to the Gobbo and kiss the statue to end the punishment; presumably they knew the route without all the helpful 'To Rialto' signs that now dot the way.
The hunchback played a role in Venice's literary life too. Like Sior Antonio Rioba in Campo dei Mori, he was a 'talking statue', where cards with satirical letters and poetry would appear, commenting on the events of the day. The Gobbo was known to secretly communicate with the famous talking statue of Rome, Pasquino, and Venetian wits in the 18th century would write humorous dialogues between the two.
Shakespeare borrowed the name 'Gobbo' for his buffoon in the Merchant of Venice.