Palazzo Labia
One of Venice's last masterpieces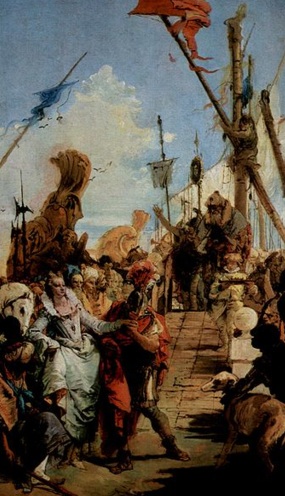 This palazzo (1750) on Campo San Geremia is unusual for facing the Canale di Cannaregio with a secondary façade set back from the Grand Canal. It has always had something about it that sent its residents over the top (perhaps because it was designed in part by Alessandro Tremignon, the architect of San Moisè).
The palace was built for a fabulously wealthy and slightly bonkers Catalan family who paid their way into the Golden Book after the wars with the Turks and then paid Giambattista Tiepolo to spectacularly fresco their ballroom with The Life of Cleopatra (1745–50), obviously a family role model in extravagance. Along with Gerolamo Mengozzi-Colonna's fine trompe l'œil architectural frescoes, they are a sheer delight, sensuous and lavish in their illusionist perspectives.
The very thin line in Venice between the real and illusionary inspired one of the Labias, at a legendary party, to toss the family's gold dinner service out of the window into the Cannaregio canal, a memorable occasion for his pun: 'L'abbia o non l'abbia, sarò sempre Labia' ('Have it or not, I'll always be a Labia'). Nets hidden in the canal, however, made sure that the Labias kept it.
The palazzo is currently owned by the RAI, Italy's state radio and television, which used to record classical music concerts in the frescoed ballroom once or twice a week with a live audience. Sadly these days the only way to get inside is to know someone or book an appointment to look at the archives.
vaporetto: Ponte Guglie/Ferrovia
+39 041 781379