San Simeone Piccolo
That curious green dome by the station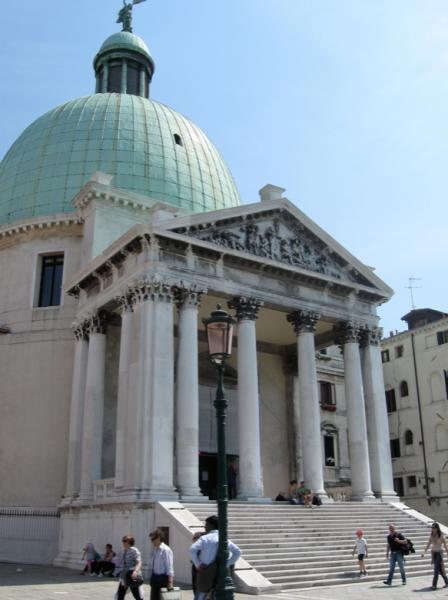 I have seen churches without domes before, but I've never, until now, seen a dome without a church. Napoleon Buonaparte
At Venice's ranch-style Stazione di Santa Lucia (1955), passengers waiting for trains lounge about on the steps and wonder about the odd little green copper eggcup of a church across the Grand Canal, next to the Ponte Scalzi, the bridge of the 'barefoot friars', rebuilt in its current form in the 1930s.
The church looks, in fact, like one of those temples to Divine Reason proposed during the French Revolution. This, however, is San Simeone Piccolo (1718–38), a 9th century church rebuilt by Giovanni Antonio Scalfarotto, who taught Piranesi the art of architectural drawing and also designed the facade of the church of San Rocco.
Although inspired by the Pantheon, with its classical porch and round plan, Scalfarotto perched a Salute-type dome on top, a charming farewell note to Venetian architecture. As Rudolf Wittkower wrote:
This blending of the Pantheon with Byzantium and Palladio is what one would expect to find in 18th-century Venice, and that it really happened is almost too good to be true.
Ruskin however hated it, and compared it to a gasometer.
Today the church is the home of the Fraternità Sacerdotale San Pietro, an order founded in Switzerland in 1988 and dedicated to maintaining the traditional rites. So if you've been longing to attend an old fashioned Latin Mass in Venice, this is the spot.
Campicchio da Comare
Hours Open for services (Sun 11am in Gregorian chant, 3pm); Mon & Thurs 8am, Fri 6.30pm, Sat 4pm
Vaporetto Ferrovia