Spirito Santo (island)
An island awaiting a new destiny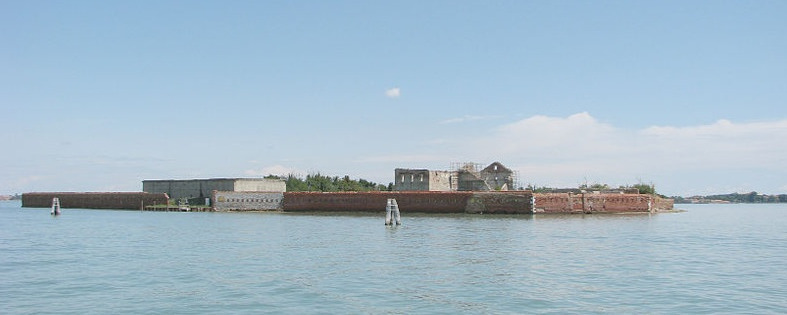 Located between Poveglia and San Clemente, the little island of Spirito Santo had a monastery since the 12th century. This was given a major boost when the Ermitani of Padua took it over in the 16th century and commissioned Sansovino to design a new church. Titian was hired to punt out to paint a series of ceiling frescoes on Old Testament themes, which were inspired by his rival Pordenone's powerful (but mostly lost) frescoes in the cloister of Santo Stefano.
The Ermitani made Spirito Santo a centre for printing musical scores. Their elegant monastery was a favourite place to lodge papal nuncios, ambassadors and other VIPs visiting the city.
It all ended when the Order was suppressed in 1656 by Pope Alexander VII. The church's works of art, notably Titian's ceiling frescoes were transferred to the Salute, then under construction. Venice sold the rest to raise money to defend Candia (Crete) from the Ottomans. After Crete's fall, Spirito Santo hosted refugee monks; it was under the Franciscans until 1806, when the monks were moved to San Giobbe.
The French, then Austrian, then Italian military took over the island and monastery, using it as a barracks and powder store befofore abandoning it in 1965. The city council then purchased it; badly vandalized, it is now 'in a dramatic condition of decay. In 2003, the island was sold to a group of developers from Padua: their plans for 144 new residences on the island have been put on hold as studies for a different future continue.
Spirito Santo also marks the beginning of the deep water Canal Orfano, which links the Malamocco opening to St Mark's basin. The origins of its name are lost in time. Some say the orphans were made in the sea battles between the early Venetians and the Franks, while others say the canal's deep currents made it the ideal place to execute death sentences by drowning, especially discreet ones ordered by the Ten.