San Nicolò da Tolentino
Serene outside, but full of bling within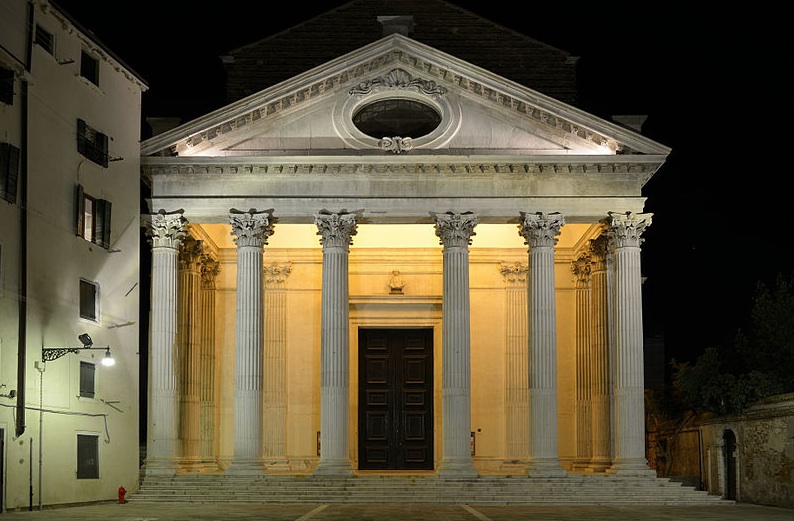 The striking Corinthian porch of San Nicolò da Tolentino (or I Tolentini) looms like a Roman ruin over the Fondamenta dei Tolentini. Initially this was an oratory, built in 1528 for the followers of San Gaetano da Thiene (St Cajetan), the Theatines. This order, leaders in the fight against the heresies of Martin Luther, took refuge in Venice after the Sack of Rome.
The Theatines commissioned Vincenzo Scamozzi to build the present church in 1591. The giant porch, funded in the will of Alvise da Mosto, was designed by Andrea Tirali (1716) and inspired by Palladio's Villa Malcontenta. Under the porch you can see a cannonball embedded in the façade, a souvenir left by the Austrians in the siege of 1849.
Scamozzi's equally Palladian interior is partly disguised by the rococo stuccoes added by a 17th-century pastry chef-cum-artist. The high altar was designed by Scamozzi's pupil Longhena.
The Tolentini witnessed a number of Venetian dramas, the most glorious when Francesco Morosini, after his 1685 bravura reconquest of the Morea, dedicated to the church the banner he had captured from a Turkish general with its three dangling horsetails; the most inglorious occurred in February 1789, when the unloved Doge Paolo Renier was secretly buried here in the middle of the night so as not to interrupt Carnival with a tedious state funeral.
The Tolentini's prize artwork is The Vision of Jerome by Johann Lys (1628) to the left of the sanctuary. Lys, from northern Germany, was very young and soon to die in the plague of 1630, but he holds a special place in Venetian art as the primary exponent of the free brush strokes and disintegration of form, the link between the late styles of Titian and Tintoretto and the Guardi brothers.
The left wall of the sanctuary itself is occupied by the rollicking proto-rococo Monument to Patriarch Francesco Morosini (d. 1678), by Genoese sculptor Filippo Parodi, a tomb that doubles as a remarkable piece of theatre with its voluminous draperies.
In the right aisle you'll find two good works by Bonifazio de Pitati, the lesser known of Venice's 'Veroneses': the Banquet in the House of Herod and Decapitation of the Baptist. The facile, unstoppable Palma Giovane painted all the chapels on the left. Also look for the unusual, lively Charity of Saint Lawrence by Bernardo Strozzi.
San Nicolò's convent is now home to the University's Institute of Architecture.
Hours Mon–Sat 8.30am–12 and 4.30–6.30pm; Sun 4.30-6.30pm
Adm Free
Campo Tolentini
vaporetto Piazzale Roma